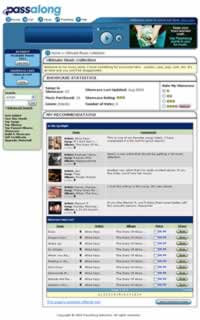 PassAlong Networks have launched what should not be dismissed as YAMS (Yet Another Music Store). They are starting with a 200,000 track catalogue and increasing to 500,000 by the end of the month.
There are two interesting parts to this one. Firstly, they actually encourage people to pass music around, and secondly they're using multiple sales channels for the music they are representing, including eBay. While they're not the first company to sell via eBay, they are the first to offer eBay-ers tracks from the major labels. They will also be selling via their own site at PassAlong.com.
The passing of tracks is very exciting and something that we've been enthused about for a long time. Our logic – what is the most ideal sales person? A passionate one, and you don't get much more enthused than a band's fan.
PassAlong allows links to songs to be passed to others via email, instant messaging (IM) or Web sites/blogs and to thank them for the viral spread of tracks, each track that is passed on and purchased by the receiver earns credit for the initiator of the transfer.
The content that they launch with, is protected and they are initially using Windows Media DRM (WME) but are keen to point out that they have (wisely) designed their systems to work with any DRM system or music format.
In October, the company will launch its Discover Music service, which will allow users to publish playlists for others to view, and in turn purchase. Following this, their future plans include offering white-label digital music stores.
PassAlong Networks are a Nashville, Tennessee-based company who were founded in 2002 and are now a 60-person startup. Dave Jaworski, who entered the world of technology at a pre-public Microsoft, after some time spent in radio, heads them.
It is very refreshing to see a company that appears to really understand the music consumers' drivers and natural enthusiasm. We'll be watching them with interest.