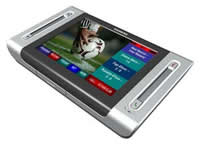 Siemens are planning to make a big splash at the upcoming CeBit in Hannover, Germany.
Along with Skype-capable M34 USB that they've already released, they're planning to go the whole hog and show a Voice over WiFi handset (Gigaset S35 WLAN). On the telephone-plus-TV front they've announced a new concept handset, offering DVB-H (Digital Video Broadcast for Handheld Devices) compatibility, which – in theory – will let users pick up around half a dozen digital TV and about 30 digital radio channels.
The 'DVB-H Concept' can pick up digital TV signals beamed across 3G networks using a modified version of the existing DVB-T terrestrial digital TV. Adapted for battery-powered terminals, the DVB-H broadcasts in bursts, allowing the receiver to power-down whenever possible, and thus boosting battery life.
DVB-H trials are underway in the UK, US, Germany and Finland, and if all goes to plan, UK residents will be able to wander about the streets watching Coronation Street on their phones in about a year. Not surprisingly, Digital TV phones are already huge in Japan and Korea.
Details are still a bit sketchy, but it will definitely feature a VGA screen and stereo sound. If they can also wedge a hard disk into the phone for recording programmes (and for storing your video clips transferred from PCs) this could be next year's must-have technology.
The omens are good: the lucky citizens of Japan and Korea are already enjoying TV mobiles and it's not hard to imagine sleep-deprived Brits shelling out hard cash to tune into every mumbled utterance of popular shows like Big Brother.
This marks another strange twist in the Siemens story. Not long ago, strong rumours were circulating around the net that they were looking to flog off their mobile phones division. This announcement – along with two other new phones (the Gigaset S35 WLAN, a Voice over WiFi and the M75, a chunky military style handset) suggests that no one's told their tech bods yet.