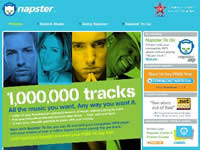 Napster UK has launched what they're claiming to be the "world's first portable subscription music service".
Backed up by an aggressive multi-million pound marketing campaign, Napster is talking big with bold claims of "changing the music industry forever" after their service rolls out after its UK launch, with Europe following close behind.
Priced at £14.95 a month, the Napster To Go service allows users to download as much music as they like from Napster's one million-strong catalogue and save it to a compatible portable media player.
Unlike the pay-per-track/album services offered by rivals such as iTunes, Napster users can download an unlimited number of tracks and listen to them on and/or offline so long as their membership is active.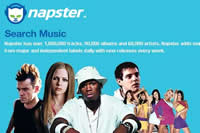 Unlimited music? Over a million tracks? Sounds like the original Napster. Well, there's the catch. Once you stop shelling out the monthly fee, you'll be listening to a hard drive full of silence, courtesy of Microsoft's new Janus digital rights management (DRM) system turning off your access to the tracks.
There's currently only five compatible music players – Creative Zen Micro MP3 player; iriver H10 MP3 player; iriver Portable Media Centre; Creative Zen Portable Media Centre; and Samsung YH999 Portable Media Centre – with a further 18 devices are expected to hit the market in the next three months.
Napster is predicting a veritable onslaught of compatible devices to follow on within the year.
With the hugely popular iPod notably absent from that list (strangely they don't support Microsoft's DRM) and users still able to download DRM-free content from music-sharing sites like Soulseek, we'll have to wait and see if users are prepared to go along with a monthly subscription where they don't get to keep the music.
For non-subscription members, Napster also offers the Napster Light a la carte download store that sells individual tracks for 79 pence and albums for £7.95.