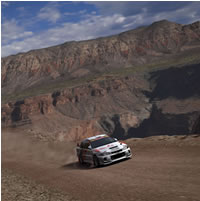 The anticipation around the release of Gran Turismo 4 has been, to put it mildly, huge. Sony are hoping this Playstation2 only game will be their Halo2 type blockbuster.
Sony has announced that it will be releasing it in the US on 22 February. Europe will have to wait until 9 March, but will gain from having an additional 10 cars on top of the 700 or so that are in the Japanese version, which launched on 28 December last year. We're not sure that an extra 10 cars will actually make up for the delay.
The Gran Turismo series has to date sold more than 37 million and this will be the first version that has networked play, which is one of the reasons we're covering it. At release it will come with LAN play, the ability to play it between a number of machines on the same network. This will be followed 'later', possibly late 2005, by the full network play, letting people play across the world. This was knocked back after Sony experienced difficulties with inter-country gaming.
Reaction so far has been that it looks stunning, easily the graphically best title to appear on the Playstation 2.
You can tell that a game is going to make a big impact – and have a significant marketing campaign behind it, when a company like Nissan decides to launch a special version of a car to coincide with the launch. The 350Z Gran Turismo 4 Edition will be limited to 700 cars in Europe and feature things like extra power in the engine and specific wheels. The features we'd really like to see on this very quick car – a pause or reset button, if you get in to trouble when driving it – are unlikely to be provided.
Gran Turismo 4
Nissan launch 350Z Gran Turismo 4 Edition (PR)