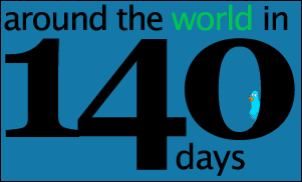 The Media 140 conference held back in May in London was an excellent event.
It brought together Twitter users, journalists, people from the PR world and others interested in what the possible effected of Twitter might be.
It was clear that the event had legs.
Well, today the length of those legs have been announced – they stretch all of the way to Sydney, Australia.
"Around the World in 140 Days" will take place in September this years, bringing a number of events in cities around the world together.
Those announced so far are London, Sydney and Bangalore, India.
Keep you eyes on it. If the London event was anything to go by, it will be worth paying attention to.