There's been rumours circulating of Olympus prepping an old school Micro Four Thirds compact up their sleeves for some time, and the proof appears to have been delivered with these saliva-inducing, freshly leaked photos.
Named the E=P1, the classically styled compact is a truly handsome beast, resplendent in tried and trusted, cool-as-a-cucumber 1950s styling, causing a whirlwind of want in the Digi-Lifestyles office.
The styling is exciting enough, but the real thrills come with the interchangeable lens mount and DSLR-sized sensor lurking inside. The only compact currently sporting a large sensor is Sigma's DP2 which has continued to pick up disappointing reviews – and that only comes with a fixed lens.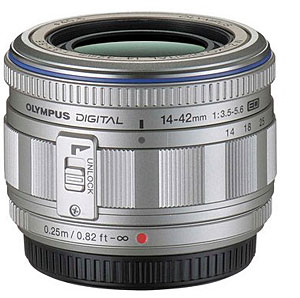 Lens and finder
The leaked photos show two lens available – a 17mm f2.8 prime lens and a 14-42mm (3x) f3.5-f5.6 zoom lens, with a removable optical finder occupying the hotshoe. We're hoping that this will be capable of displaying exposure information – something that has been our Holy Grail for a compact ever since we let go of our 35mm Olympus XA snapper (we're doubtful about this, to be honest).
The photos show the camera available in Ye Olde silver and tan leather finish, with a clearly Photoshopped version on black.
Prices, shipping dates, and full spec-sheet should be coming through in the next day or so. We're thinking it's going to cost a pretty packet, but that won't stop the want.