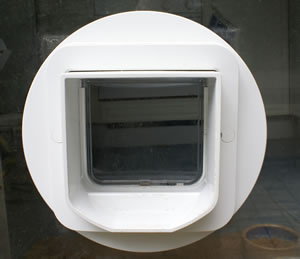 Ever had the problem of random cats appearing in your house, stealing food or worse marking their territory? Well SureFlap have the answer for tech fans, an RFID catflap.
The catflap has an RFID sensor mounted in the housing and as your cat goes into the "tube" part of the unit, the sensor reads the microchip implanted in your cat and opens the latch. Other cats trying to gain access will be rejected.
The system only works with the more modern types of chip known as FDX-B (which store a 15 digit code), but these are the standard "microchips" in use today.
If you have the option, tell your vet to place the chip in the back of the neck near the top, so when the cat stretches out to go through the cat flap it's near the sensor (they often put them there anyway as it's easy for them to read the chip using a handheld scanner).
Having your cat microchiped is around £30.
Programming SureFlap
Getting it working is easy.
On installing the catflap (which fits a standard fitting used by a traditional "Staywell" flap), just put in the batteries and press the 'learn' button.
This will make the LED indicator flash and any cat then passing by the sensor will automatically be recognised, halting the LED flashing.
To programme it for another cat, just push the button again and repeat the process.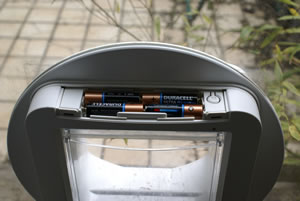 The unit will store up to 32 RFID numbers so if you happen to want to have 32 cats in your home, then that's entirely possible (it also means if you forget how to reset the unit and you replace your cat for whatever reason, you can just add another).
The catflap takes four AA batteries, mounted on the house side, which should last for about 6 months of normal cat activity.
Installation
As mentioned earlier, the SureFlap fits into an existing hole for a Staywell catflap.
There's two halves which push together from either side and it's made secure with two (supplied) screws.
If the SureFlap is being mounted on a glass door there's also a separate disc which just gives spreads the pressure and makes a better seal with the glass, the SureFlap still mounts the same way with either half being push from either side of the glass.
The whole process only takes about three minutes, including putting the caps at the end of the screws which hide and protect them against the elements.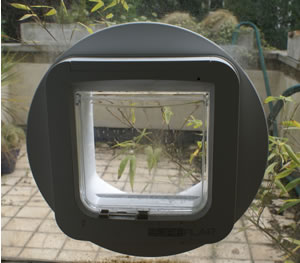 Easy to use
Since the SureFlap works on an existing RFID chip in the cat, it does mean the cat doesn't need a collar or any kind of tag and it's generally recommended that cats are chipped.
The SureFlap costs around £76 – £90.
Scores
Install 88%
Tech 97%
Price 67%
Overall 82%