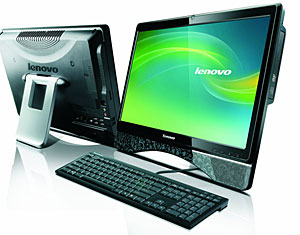 Lenovo have decided to don their party hats and come along to the Atom CPU party, bringing along their C300 all-in-one desktop.
Scooping out the innards of a netbook and dropping them into a rather attractively styled combined desktop PC with a 20 inch widescreen display, Lenovo are following the likes of Asus, Acer and MSI by providing a low cost machine ideally suited for bedrooms and studies.
Powered by a 1.6GHz Intel Atom 230 CPU and Intel 945GC chipset, the Lenovo C300 manages to squeeze in a optical disc drive, which is something of a rare beastie in this market, with users having the choice of running the whole caboodle on Windows XP, Windows Vista Home Basic, or Windows Vista Home Premium.
The C300 also comes with one or two 2GB of RAM, a 160GB to 640GB hard drive,a 1.3MP webcam, a healthy smattering of 6 USB ports, a 6-in-1 multimedia card, a Firewire port.
There's a USB mouse and PS/2 keyboard included in the package, but with a price as pegged as low as $449, you can forget about any touchscreen action going down. Bizarrely, wi-fi is only listed as an optional extra, which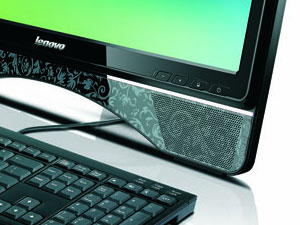 seems a bit like going to sea with one paddle.
If the pretty patterned faceplate and low price is causing a commotion in your cotton wotsits, you won't have to wait too long, with the Lenovo C300 schedued for delivery in July.
Lenovo C300 All-in-One Desktop specs
Display: 20-inch 16:9 aspect ratio (1600mm 900mm)
Processor: Intel Atom 230
Chipset: Intel 945GC chipset
Graphics: Intel integrated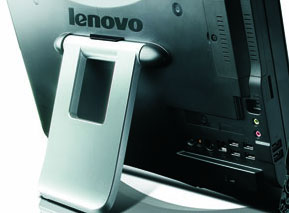 Memory: 1-2 GB DDR2 667
Hard Drive: 160-640 GB 1 slot
Connectivity: Ethernet 100 MB, WiFi 802.11 abg (optional)
Optical: Tray in RAMBO (1 slot)
Other: 1.3 megapixel camera, 1394/firewire port, 6 USB, 6-in-1 multimedia card (secure digital multimedia card, XD, memory stick, memory stickpro, secure digital pro), two 2.0 audio 3 watts, 120 watt power adapter, wired USB mouse, wired PS/2 keyboard
Software: XP Home, Vista Home Basic, Vista Home Premium
http://www.liliputing.com/2009/05/lenovo-introduced-atom-powered-c300-all-in-one-desktop.html