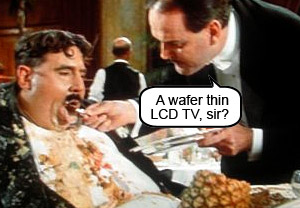 LG has slammed the gauntlet down to other TV manufacturers by announcing the world's thinnest LCD screens.
Their new 42 and 46 inch models measure up at an outrageously slender 5.9mm thick (0.23 inches) – a truly remarkably feat of engineering that makes our current LCD screen match the proportions of Fatty Arbuckle and Billy Bunter's undies. Combined.
Thanks to LG's clever LGS (Light Guide Sheet) technology, the thickness of HDTVs can be shrunk to ant-challenging dimensions, with the weight also slimming down to just at 6.1kg and 7.3kg, respectively.
As is the norm with LG tech launches, an attractive Asian model was wheeled out and shoved in front of the cameras and instructed to look suitably excited and thrilled by the technology.
In this case she's having to maintain her cheeky smile while holding a coin next to the TV's profile. But what coin is it, you may ask? Well, it's a 500won coin, which is worth around $.40 and about the size of a half-dollar coin. Or at least that's what we read on the Internet, and that's never wrong.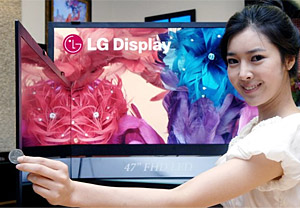 Despite the TV's wafer-thin lines, punters should expect smooth video footage with the onboard 120Hz tech keeping motion blur at bay, and they're apparently eco-friendly beasties too, with the thinness meaning less power is consumed.
The displays are edge LED lit which may compromise picture brightness a tad, although our biggest fear would be coming home from the pub a little worse for wear, leaning on the our shiny super-slim TV for stability and finding ourselves the owners of the world's first two-piece TV screen.
Price and availability is still to be confirmed on this fella, but we expect it won't be for the likes of poor, downtrodden folks like us. Oh no. Grumble…moan…