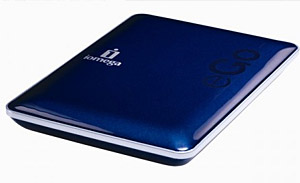 Looking sleeker than an oily torpedo sliding through an ocean of hot butter is the new Iomega Announces eGo portable hard drives, announced Sunday.
Served up in range of funky colours and offering up to 500GB in capacity, Iomega are feeling pretty charged up about their handiwork, describing the drives as being nothing less than the "ultimate embodiment of style and function in portable drives today."
Available in bright Ruby Red (250GB, 320GB and 500GB capacities), sparkling Silver (320GB) and deep Midnight Blue (320GB), the USB 2.0-powered eGo drives strut their stuff encased in an anodised aluminum shell measuring a smidgen over half an inch thick (16 mm).
Lurking inside the stylish exterior is a 'state-of-the-art' 2.5-inch portable hard drive, protected by Iomega's 'Drop Guard' feature which claims to keep data safe after drops of up to 51 inches. And that's no less than 40% above the industry average, say the Iomega mob.
For even tougher protection, Iomega's mean-sounding eGo BlackBelt Portable Hard Drive will be available in June, packing an eGo Power Grip Belt and 'Drop Guard Xtreme', which provides protection for earthbound plummets of up to 7 feet (2.1 mm).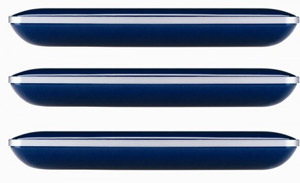 All of the new drives grab power from a laptop or computer's USB port so there's no pesky power supplies to lug about, and there's a bundled 'Y' cable connecting two USB ports up to provide more juice to power the drive.
Also lobbed into the package is Iomega's new Protection Suite, made up of a six month subscription with McAfee VirusScan Plus, Iomega QuikProtect backup software, EMC Retrospect Express or Express HD and MozyHome Online Backup.
The new Iomega drives work with Microsoft Windows 2000 Professional, Windows XP, and Windows Vista, and Mac OS X 10.4 or above, and are all available today (except for BlackBelt which will be available in June).
The 250GB Ruby Red eGo model is priced at $84.99; the 320GB Ruby Red, Midnight Blue and Silver eGo models are $94.99; the 500GB Ruby Red is $134.99; and the 500GB BlackBelt eGo model is $139.99.