The media may be stuffed full of hand-wringing tales of evil pirate downloaders busily hammering the last nails into the music industry, but new figures show that legal downloads are soaring.
UK industry bods the BPI have announced that 9.5% of the population bought music downloads in 2008, a mighty leap upwards from the 5.1% who bought music online in 2007.
The digital market is being predominantly driven by singles, which made up 95% of the market, shifting 110 million copies in 2008 (up 42% from the year before), while 10 million digital albums were sold, a mighty 65% increase on 2007.
It's calculated that a third of the population now owns an MP3 player, although this figure could include MP3-playing phones rather than just dedicated MP3 player devices.
The BPI reckons that nearly a quarter (23%) of those surveyed between the ages of 16 and 54 were happy to fish in the waters of illegal filesharing networks, with two-thirds of them using the networks as much as every month.
Things should look a lot different next year with services like Spotify mixing things up with the "access vs ownership" trend, while the removal of DRM last year has is also contributing to the growth of legal downloads.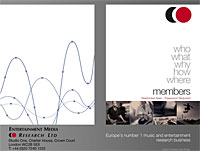 Creative crunch
Despite the encouraging figures, the BPI are still banging on about the perils of illegal downloading, with Chief Executive Geoff Taylor warning that, "An endless free lunch for consumers when it comes to digital content is unsustainable."
"Unless Ministers strengthen proposals for ISPs to deal with illegal behaviour online a 'creative crunch' will follow – investment in new British talent will ultimately dry up," he continued.
"The internet cannot be a place where respect for the law is abandoned. Even though the music business is creatively fit and strong, free-loading reduces investment in new music and in turn threatens the jobs of thousands of young people working in A&R, recording, marketing and promotion."
We're not sure if we can muster up too many tears of anguish for marketing bosses, but we can definitely say theres's been a creative crunch on their website, which remains a truly hideous thing to look at.