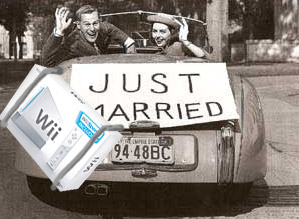 Proof indeed that Britain's gone tech-crazy comes in the form of a department store's breakdown of what's on new couples' wedding list.
UK store John Lewis has released a list of top 20 items to appear on couples' wedding lists, with the Nintendo Wii figuring prominently, as well as high def TVs and speaker docks also being requested.
Back in the day, couples asked for boring old stuff like crockery, kitchen equipment and linen to help make their house into a home, but now high tech goodies are appearing on more and more lists as the happy couples look for entertainment-based freebies.
It seems one of the reasons for the switch to high tech goodies is the fact that couples nowadays couples often live together before they get married, so by the time the big rice-lobbing day comes, they've already stocked up on knives, forks, plates and all the other household stuff.
Speaking to the Telegraph, Tracey Yates, senior analyst, Gift List at John Lewis, said, "Two years ago, the top 20 products on the Gift List were exclusively traditional items from linens, kitchenware, china and glass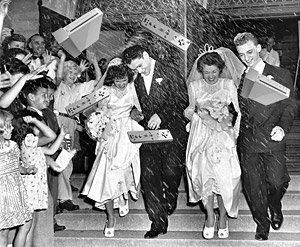 but, in the second half of last year, the Wii sports pack made it to the top 20."
Rival department store Debenhams says that after cash or vouchers, iPods and TVs are on the rise, and there's also a general trend away from the once popular silver photo frames to snazzy digital photo frames.