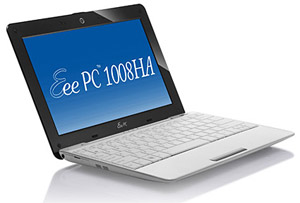 Simply begging, nay demanding, that it be introduced with some half-cocked pun like 'Asus to start shifting super sleek Seashells with a C Drive', we can announce that their quirkily named netbook will indeed be shimmying their way on to UK shop shelves this month.
The 1008HA Eee PC is one smooth looking slab of soapy-smooth loveliness, looking a mere slither of a thing at just one-inch thick.
Weighing a floaty 1.1Kg, the Eee packs a 10-inch LED-backlit screen and has an Intel Atom N280 processor going thumpa-thumpa inside.
There's a total of 170GB Hybrid Storage onboard (160GB HD, 10GB Flash) and Asus claim that the machine will keep you rocking for six hours' of battery-packed excitement, with their press release continuing the nautical theme, describing the netbook as a "Treasure Trove of Innovative Solutions for Simplicity and Convenience."
Supposedly 'inspired' by the contours of a seashell (ya, rly), the scratch-resistant slither of slimness got 'What Laptop' purring with joy recently, with their writer declaring that it was "set to become the most desirable netbook yet, with a slimline finish that makes an Apple MacBook Air look bloated."
Priced at a very competitive £349.97, the Asus Eee PC 1008HA Seashell should be skimming its way into shops from the 15th May.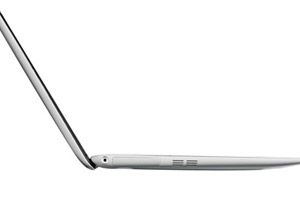 Specs
Display 10″ LED-backlit WSVGA Screen (1024×600 pixels) with Color-Shine (Glare-type)
Operating System Genuine Windows XP Home/ GNU Linux
Processor Intel Atom N280
Default Memory 1GB DDR2 SO-DIMM
Hybrid Storage 160GB 2.5″ SATA II 5400RPM HDD + 10GB Eee Storage
Wireless Data Network WLAN 802.11b/g/n @2.4GHz, Bluetooth2.1 + EDR
Battery Slimmer and eco-friendly Li-polymer Battery, 6 hrs*
Multi-media Camera 1.3M Pixel
Audio Codec Hi-Definition Audio CODEC
Speakers Stereo Speakers
Built-in Mic Digital Array Mic
Interface 1 x Mini VGA Connector, 2 x USB 2.0, 1 x LAN RJ-45, 2 x Audio Jack (Head Phone / Mic-in), Card Reader: MMC/ SD(SDHC)
Physical Dimensions 262mm (W) x 178mm (D) x 18~25.7mm (H)
Weight 1.1Kg (2.42lbs)
Colours White, Black, Blue, Pink, Sapphire Blue, Ruby Red
Posted on Author Mike SlocombeCategories Platforms, Portable