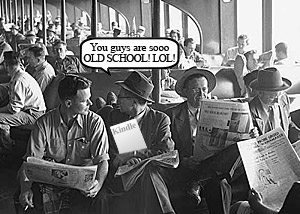 Speculation-o-meters are being cranked up to max on the web, as rumours of a new Kindle book reader for newspapers continue to circulate.
Amazon have invited members of the press to an event tomorrow which the The New York Times has suggested is to mark the launch of a Kindle-like reader sporting a much bigger screen.
They think that the new reader is designed specifically for newspapers and magazines, with content providers able to supply digital copies of their publications on the device.
Although Kindle users can already read newspapers – these are delivered wirelessly for a fee – Michael Gartenberg, an analyst at Interpret, thinks there may be scope for a bigger reader: "It all depends on price. If it's a $500 newspaper reader and then you have to buy a subscription on top of it, it has to be for someone who is pretty heavy into newspapers."
"On the other hand, if you subscribed to The New York Times and they'll give you this reader that you can now use for books and other things, I could see an interesting change in the model begin to emerge," he added.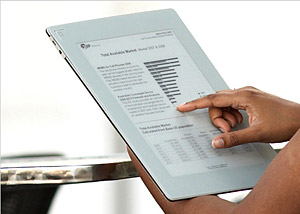 John Ridding, chief executive of The Financial Times, perked up when he caught wind of the rumoured new product, "We are looking at this with a great deal of interest," he told the NY Times. "The severe double whammy of the recession and the structural shift to the Internet has created an urgency that has rightly focused attention on these devices."
Where an electronic book reader could really make sense is in the academic market, where students and researchers could load up a crate load of textbooks and research documents in to a Kindle-like device – and save future visits to orthopedists. Rumours of an education-based Kindle have been around since the launch of the original reader, but nothing has surfaced yet.
Tomorrow's Amazon event takes place at the Pace University in New York, which just happens to be the same building used as a headquarters by the The New York Times in the past. Co-incidence?