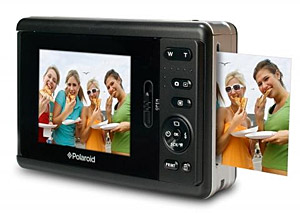 Despite being one of the best-known names in photography, Polaroid have twice been declared bankrupt in recent years, but like Dracula on Red Bull, they're jumped up from the grave one more time to try and make a killing.
Like an updated Polaroid camera of yore, their new Polaroid PoGo lets you snap a picture and get a printout in your grubby hands moments later.
Thanks to the company busily, "Reinventing Instant Photography for the Digital Age," the PoGo packs a five-megapixel digital camera with a built-in printer that can serve up a full-colour, 2×3-inch, peel-off, sticky-backed photo in less than 60 seconds.
Unlike the old film based models, the PoGo has a few in-camera editing tricks up its sleeve, letting users crop photos, add borders, remove red-eye and print dates.
Photos are stored on a memory card, so you won't run out of film in a hurry, and there's always the option to make bigger prints using a conventional printer afterwards.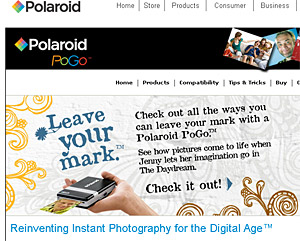 The first batch of Polaroid PoGo instant digital cameras is expected to hit the UK on the 12th May, with gadget site Firebox.com already taking pre-orders, which has a retail price of £229.95.
Specifications
Camera Features
• 5.0 megapixel digital camera
• 3.0″ bright color LCD for viewing images
• SD compatible for expanded memory
• Rechargeable lithium-ion battery
Integrated Printer Features
• Snap, print, share – no computer connections needed
• 2×3″ full-color, sticky-back prints
• Smudge-proof, water-resistant, tear-resistant photos
• No Ink. No Hassles. – no ink cartridges or ribbons to throw away
• View and crop images on camera before printing
• Option to print date, file number
• Add a fun border to your photo including the classic Polaroid frame
• Automatically save photos to camera or SD card for downloading
• Prints in about 40 seconds
• Print up to 20 photos per full battery charge