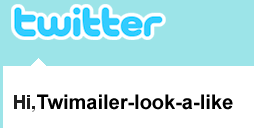 Twitter have smartened their new Follow email, borrowing heavily from Twimailer.
We've been users of Twimailer since it first launched.
It's Web service that sends you an email alerting you when someone new follows you on Twitter – but with loads of extra info on it and laid out in an attractive manner.
This was needed as previously the text-only email Twitter sent you just had a link to the profile of the new Follower.
Each time this mail arrived you had the hassle of going over to their profile, looking at who they were, what they'd written, how many people they Followed and were Following them – to judge if they were just spam accounts, or were someone that you wanted to follow back.
Twimailer gathers all of the info that you needed into one email, so you didn't have to dart around Twitter and provided links so you could Follow, block or report as spam straight from the email.
We've been told that Topify done something similar, but we haven't tried it.
Anyways … good to see that Twitter is smoothing some of its rough edges out.