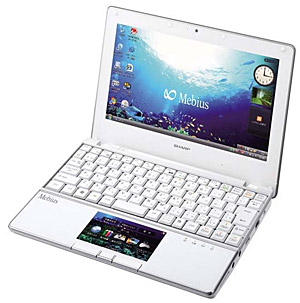 Apple's snazzy glass trackpad may have got the fanboys cooing, but Sharp has trumped them in style with their new Mebius PC-NJ70A laptop sporting a built in LCD touchscreen trackpad.
The LCD trackpad supports a resolution of 854 x 480 pixels, and cunningly packs in its own light sensor which adjusts the brightness depending on the ambient lighting.
It's not just a trackpad with lipstick though, with the screen acting as a secondary display for applications like the calculator, media player, paint package, games or even a rather daft mini-keyboard.
An itty bitty stylus can be pulled out of the laptop for taking care of those fiddly screen operations, although we'd imagine it would be lost within minutes if we ever got one.
It's all squeezed into a rather attractive package too, although things aren't quite so exciting when it comes to the rest of the laptop, with the underwhelming specs inducing mass outbreaks of shoulder shrugging and a chorus of Meh's.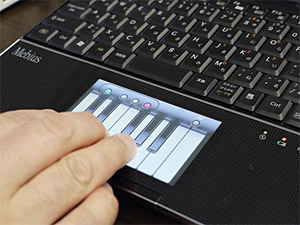 Lurking inside the black or white casing is a 1.6GHz Atom N270 processor backed by 1 GB RAM with a 160 GB hard drive, Multicard reader, 10.1-inch display (1,024 x 600), Ethernet, Wi-Fi and Bluetooth.
Ne'er a word about pricing has leaked out from the collective lips of Messrs Sharp and Co, but it's rumoured to weigh in at a rather pocket-draining 80,000 Yen ($ 820).
See the video – complete with melll-low lounge music to set you at ease – at akihabaranews.com.