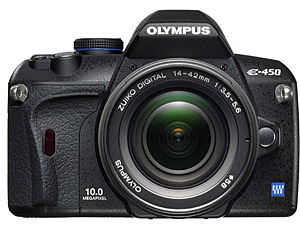 We purred enthusiastically when we got to review the Olympus E-410 back in 2007, and we're liking the look its latest update, the E-450.
Now a member of the "four thirds" clan, the E-450 is near identical to last year's E-420, and the ten megapixel shooter shares the same Live MOS sensor with live view, 3.5fps continuous shooting, 2.7-inch LCD, ISO 1,600 max sensitivity and four thirds lens mount stuffed in the same bijou 5.1 x 3.6 x 2.1-inch and 13.4 ounce body.
This somewhat less than revolutionary update sees Olympus add their new TruePic III+ image processor as well as including improved flash control, a longer 30-minute exposure and some pretty underwhelming art filter modes like "pop art", "soft focus" and "pin hole."
Although sniffy photo purists like us will tut away and declare that such gimmicky effects are better off being done on a home PC, it's worth bearing in mind that this is a true entry level dSLR with a price tag to match. Photoshop perfectionists may not be impressed, but some newbies will no doubt appreciate the ease and convenience of in-house camera editing.
The E-450 packs the usual exposure-assisting gizmos like Face Detection Technology, Shadow Adjustment Technology and Perfect Shot Preview as well as 18 pre-set scene-select modes and full manual controls.
Photos can be framed and reviewed on the 2.7″ LCD with 230,000 pixel resolution, and there's also a TTL viewfinder with 95% field of view.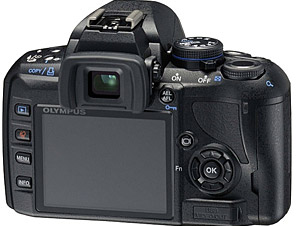 The camera comes with an integrated flash (guide number of 12 meters at ISO 100) as well as a hot shoe for external flash strobes. Red-eye reduction, slow-sync (first / second curtain) and manual flash modes are offered, with an improved +/-3EV of flash intensity control offering tweak options.
The pricing is certainly keen, with the ED 14-42mm f3.5/5.6 and ED 40-150mm f4.0/5.6 Zuiko zoom lens bundle coming in at an affordable $699.
Specifications
Resolution: 10.00 Megapixels
Kit Lens: 3.00x zoom 14-42mm (28-84mm eq.)
Viewfinder: Optical / LCD
LCD Size: 2.7 inch
ISO: 100-1600
Shutter: 60-1/4000
Max Aperture: 3.5
Mem Type: CF1 / CF2 / Microdrive / xD
Battery: Custom LiIon
Dimensions: 5.1×3.6×2.1in, (130x91x53mm)
Weight: 13.4 oz, (380 g)
MSRP: $699
Availability: 07/2009