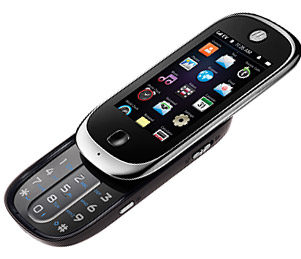 We generally view new Motorola handsets with the same level of anticipation as when we're about to bite into a cold, soggy burger at a footie match, and we fear their latest offering is going to be equally unsavoury.
Christened with the less-than-snappy name of the 'Motorola QA4 Evoke' moniker, the rounded, pebble-like CDMA mobile reminds us a bit of the Palm Pre – but with considerably less excitement.
Sure, they look rather similar in shape and it's a slider too, but when you flip the thing out, there's no full cream QWERTY goodness to be found, but a half-fat, over-styled alpha-numeric keypad which we expect looks far better than it works. Hard core texters will have to make do with the landscape-orientated onscreen keyboard, which is sure to be a poor relation to a proper, hardware keyboard.
Although the 2.8″ touchscreen looks pretty generous in size, more disappointment awaits when a quick thumb through the spec sheet reveals a distinctly 2007-esque pixel count of just 240 x 400 dots. The camera seems stuck in a similar time warp, serving up just 2MP of power with ne'er a hint of a flash in sight.
The 256MB of internal storage is happily backed by a microSD expansion slot and things look a little more '09 with GPS and Bluetooth supporting A2DP, HSP and HFP profiles.
The homescreen comes with the usual widget-Based, customisable options, and there's a full HTML browser onboard with MySpace, YouTube and Picasa integration.
Running on CDMA 800/1900/1700/2100, 1900MHz and 2100 MHz EVDO Rev A bands, the 1170 mAh battery promises up to 330 min of talk time and around 450 hrs of standby time.
The handset measures up at 108mm x 50.5mm x 17.5mm dimensions and it's expected to appear Stateside in Q2 2009, with no word on a European/UK release yet. Can we wait? Yes, we can actually. Preferably until the Palm Pre turns up.