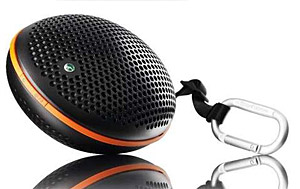 With summer around the corner, a whole world of possibilities for annoying your fellow human beings opens up, with Sony Ericsson's new outdoor wireless speaker MS500 letting you ramp up the volume of your phone.
The self proclaimed 'trendy' outdoor speaker lets users amplify the tinny 'pfft pfft' of their mobile phone speakers into a pleasingly louder 'pfft pfft' with the slightest whiff of bass added.
With music streamed wirelessly through the wonders of Bluetooth 2.1 + EDR, users can get buses rocking to the sound of the latest R'n'B hit while the phone stays in their pocket – and if some hood nicks their handset, they'll still hear their tunes until the felon sprints 10 metres away.
Sony Ericsson claim that the Tamara Beckwith-shaped speaker will 'give you a festival experience wherever you are or want to go,' although you'd have to be about 3 miles away to match the speaker's feeble 2w output.
The eggy speaker comes in a dashing shade of urban black with playback and volume controls embedded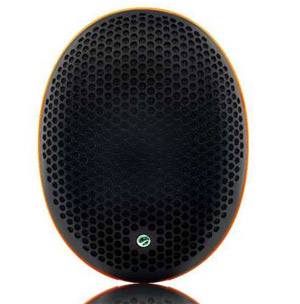 in its orange 'seam,' and there's a white and pink version available for grrrls and sexually assured males.
The Sony Ericsson gang insist that the "superior sound quality and cool design of the MS500 will impress all your friends" with the durable splashproof shell and strap making it ideal for attaching to a bag, jacket or for waving around like a medieval mace in case of attack.
The speaker is powered by two AA batteries, which Sony Ericsson claims will keep you rocking for a rather miserly 5 hours of playback.