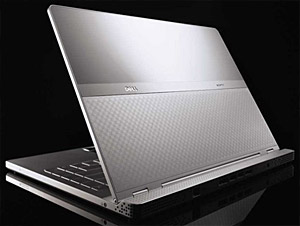 Dell certainly knew how to milk the build up to the release of their stylish new Adamo laptop, layering expectations with a long drawn out campaign of teasers before finally dishing out the dirt.
The company has now officially announced the first machine in their Adamo line or wallet-reducing laptops, and it's a super slimlime, aluminum-clad beast in a MacBook style "unibody" construction with a very attractive patterned lid.
Aimed straight at the MacBook Air mob and describing it as a "luxury brand notebook design for the luxury conscious consumer," Dell are claiming it's the thinnest laptop in the world at .65 inches thick, although the tapered design of the Air clouds the claim a little (the Air is thinner at the front but thicker at the back). Whichever way you spin it, it'll be thinner than whatever you're using now and it's an extremely thin slab'o'style that looks well tasty.
Sporting a 13.4-inch, 1,366 x 768 LED display finished off in a trendy high gloss finish and weighing four pounds, the Adamo packs a 1.2GHz Core 2 Duo U9300 with integrated Intel X4500 graphics, 2GB of RAM, and a 128GB SSD. Not the greatest spec sheet we've ever seen for sure, but it should be up to most tasks. Besides, if it does takes longer, you'll look that much cooler while you're waiting.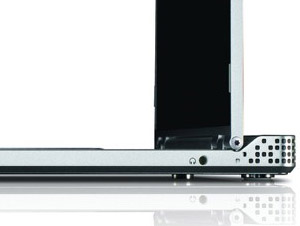 On the right edge can be found a headphone jack and a user-accessible SIM card slot (we like that) on the right side, with the remainder of the ports and connections shunted on the rear. These include two USB ports, a USB/eSATA port, an Ethernet jack and a DisplayPort video output. Dongles for hooking up other video connections will be made available.
Dell claim more than three hours of battery life at the default power settings, with the high end, boardroom-impressin' package set to retail at $1,999 upwards with a March 26th debut scheduled.