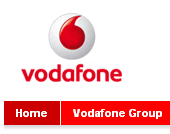 Another one falls.
Vodafone have announced that they are switching their music catalogue from Universal Music, Sony Music and EMI away from DRM-protected music to MP3 format.
This makes Vodafone the first global mobile operator to do it.
Not only will these tracks but DRM-free in the future, but people who have bought DRMd tracks already will be able to change them to MP3 for FREE. Are you listening Apple? No DRM-dropping tax.
Why is that then?
Given the strength of music protection of mobile handsets, it's quite surprising that Vodafone have made this move.
We can only put it down to consumers not buying music using their mobiles, because they were able to get music elsewhere without the tracks having the shackles of DRM.
Wonder how many of the technology companies that sold the music companies DRM system are offering refunds?
Countries effected
DRM free services will be available in Germany, Italy, UK, Spain and New Zealand by the summer. Australia, Czech Republic, Greece, Hungary, India, Ireland, Malta, Netherlands, Portugal, Romania, South Africa, Turkey will follow in due course, along with services provided via Vodafone's partner networks in Austria, Belgium, Bulgaria, Croatia, Cyprus, Iceland, Slovenia and Switzerland.