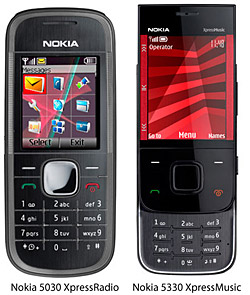 Nokia – currently reeling from a mighty slip in their market share – are hoping their fortunes will improve with the release of three shiny new music handsets, the 5030, 5330 XpressMusic and the 5730 XpressMusic.
The entry level Nokia 5030 can proudly big itself up as the first Nokia handset to feature an internal FM Radio antenna, which means you won't have to faff about using the headphone cable as an antenna.
We're rather big fans of phones with built in radios, so we're impressed, even if the phone is a bit on the basic side for our saffisticated tastes.
The Nokia 5330 XPressMusic handset is a nattier looking slider jobbie, with dedicated XpressMusic touch keys on the side of the display with a claimed 26 hours of music playback plus social network integration to keep you exchanging inane drivel with your chums 24/7, around the clock.
The top-of-the-pile 5730 XpressMusic phone features a side-sliding QWERTY body with two keypads and dedicated gaming keys.
A home screen for XpressMusic serves up instant access to music content, calendar, N-Gage and other essential goodies like Facebook, Photos, Ovi Contacts and Maps.
The 5030 XpressRadio is set for a Q2 2009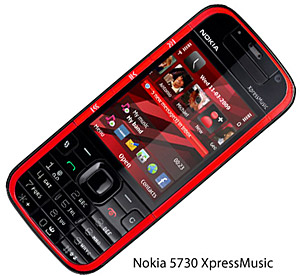 launch with a highly pocketable €40 ($51) price tag, while the 5330 XpressMusic and the 5730 XpressMusic are expected in the third quarter of the year, priced at €160 ($203) and €280 ($366), respectively.