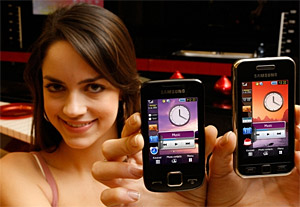 Mayhem temporarily broke out around the Samsung offices when no gratuitous pretty girl to hoist aloft their wares could be located.
Brows furrowed deeply as sales managers panicked that product launches and production schedules would have to be postponed, but happily a scantily-clad foxy brunette was soon located and the photo shoot went ahead.
Happily thrusting the Samsung S5600 and S5230 cameras in the direction of the photographer is a suitably thrilled glamour puss, firmly underlining the subconscious connection that hot lady = hot product. Buy this and the ladies will love you!
Anyway, back to the phones. The budget S5600 looks to be an eminently pocketable kind of smartphone, featuring a 2.8-inch QVGA full touchscreen, 7.2Mbps HSDPA, a decent 3MP camera, Bluetooth v2.1 and FM radio support, with the whole thing measuring up at a pocket pleasing 12.9mm thick.
Even thinner at 11.9mm and slightly taller is the S5230,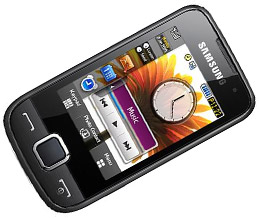 which parades a 3-inch 240 x 400 pixels WQVGA touchscreen, 3MP camera, GPRS, 50 MB storage plus MicroSD, 15 fps video recording plus DNSe technology to serve up a veritable sonic platter of aural joy.
Both phones come with Samsung's TouchWiz User Interface and are expected to arrive in Europe some time soon.