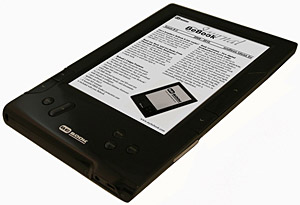 Looking to take the Kindle 2 around the the back of the bike sheds and give it a bit of a duffing up is the BeBook 2 by Dutch firm, Endless Ideas.
The company aim to have their second-generation eBook reader out in the second half of 2009 and are looking to capitalise on their rivals reluctance to travel to European shores. Despite Kindle being up to version 2 over in the land of hamburgers and high fives, Brits are still yet to get their grubby mitts on one.
The full spec sheet of the BeBook 2 is still under wraps, but the initial promise of onboard Wi-Fi and/or 3G, Wireless RSS support and touchscreen should be enough to make impatient Kindle fans sit up and take notice.
Sporting rather attractive minimalist 'none-more-black' looks, the BeBook2 is smaller than the Kindle while still offering the same reading surface area.
There's also a handy SD card slot which will be useful when the 512MB built-in memory fills up – something that's likely to happen sooner rather than later considering the device's wide-ranging support of popular formats such as PDF, MP3, Word, Text and Html.
However, there's no QWERTY keyboard to be found, and it can't read Kindle's proprietary format, so users can't enjoy daily newspapers or download free first chapters from Amazon's well stocked store.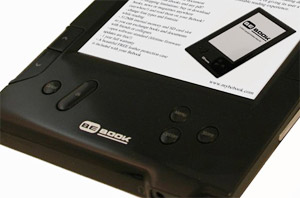 Wi-Fi for BeBook first gen
Purchasers of the original BeBook haven't been overlooked, with the company announcing a Wi-Fi module which fits into the SD card slot to provide wireless access to eBook stores and RSS feeds. The module will be available from the BeBook website in a month or two for for around around £30, while the first gen eReader can still be bought for £250.
Boox eReader
Another device keen to elbow their way into the lucrative market opened up by the Kindle and Sony's reader is the Boox eReader.
Manufactured in China by Onyx International, the reader will offer a touchscreen up to huge 9.7-inch, with netbook-like specs: a 400MHz CPU, 128MB RAM, 512MB Flash, SD Slot, USB 2.0, 2.5mm headphone port (doh!), WiFi and 3G, GPRS and much more. There's been ne'er a whiff about pricing and availability yet.