Venezuela is to offer what has to be the cheapest multimedia mobile phone on the planet with the "El Vergatario" handset due to be sold for just $14 (around a tenner).
You might think that something so cheap is going to be a hefty lump of beastliness with only the most basic features, but it seems that it'll pack in a few decent features, including an MP3 player, radio and even a camera.
The phone – unveiled by President Hugo Chavez last week – will be produced by a joint Venezuelan-Chinese firm called Vetelca and offered across Latin America and the Caribbean.
The firm is 85 per cent controlled by Chavez's government and 15 per cent owned by ZTE of China, and they plan to knock out four million of the units a year in association with Huawei, another Chinese company.
With millions of spondula-strapped consumers keen to enjoy the benefits of mobile communications, cheap handsets are being developed around the world,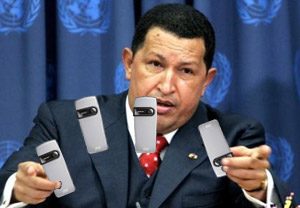 with India's 'People's Phone' being announced in February.
A stripped-down basic affair developed by Indian telecoms company Spice, the phone dispenses with all non-essential features, and doesn't even have a screen.