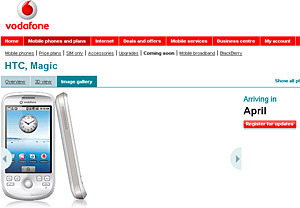 Vodafone UK is set to offer the newly unveiled HTC Magic mobile phone as early as next month, with the handset already listed on their site as "arriving in April."
The second Google Android platform-based smartphone, the HTC Magic is known worldwide as G2 device and will be available exclusively through Vodafone and offered to their customers in the UK, Spain, Germany and France.
Salivating Android users keen to get their mitts on this keyboard-less beastie will have to hold their breath a bit longer – Vodafone is remaining coy about the exact launch date for the device and there's ne'er been a peep about pricing either.
Although there's a lot to like about the Android OS and the slimline looks of the G2 are a pleasure to behold, early previews have indicated that the software keyboard is a bit of a fiddly fella to type on.
The specs aren't to be sniffed at though, with the handset packing a trackball, capacitive 3.2-inch touchscreen (320 x 480 pixel resolution), 528MHz Qualcomm MSM7201a processor and 192MB of memory.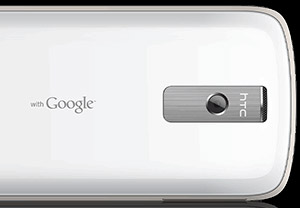 Almost all of the connectivity boxes are ticked too, with support for 900MHz and 2100MHz HSDPA 3G networks (offering up to 7.2Mb/s download and 2Mb/s upload speeds), GSM/GPRS/Edge bands, Bluetooth 2.0+EDR, 802.11b/g Wi-Fi connectivity, Infrared, built-in GPS navigation capabilities.
After the less than fantastic response to Vodafone's Blackberry Storm, the company are keen to offer viable alternatives to the all-conquering iPhone, which remains exclusive to rival firm O2.
The one we're still waiting on is the Palm Pre which is building up formidable head of hype prior to launch. A potential iPhone killer (at last!), the phone has just topped T3's 'Hot 100' listing, being described as "the hottest, most mouth-watering piece of gadgetry on the planet today."