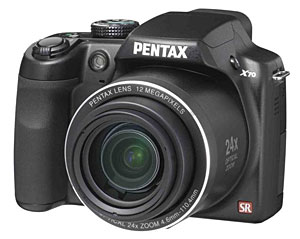 They've taken their time to join the megazoom digital camera market, but Pentax have just rocked up with their new X70 digicam packing a hefty 24X optical zoom lens in a reasonably compact and lightweight body.
Sporting 12 megapixels and a 1/2.3-inch chip, the X70 bridge camera comes with the usual auto exposure options, plus aperture/shutter priority and metered manual modes for tinkerers.
The lens certainly should be able to cover most shooting situations, running from a moderate wideangle 26mm to a paparazzi-pleasing 624mm (35mm equiv; f2.8-5), backed by an image sensor-shift Shake Reduction system. Lurking at the back of the X70 is a 2.7 inch non-articulated colour LCD monitor offering 230k resolution and an Anti-Reflection coating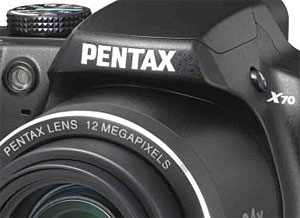 Pentax say that the camera can knock out 11 images per second (up to 21 images in succession at 5MP) with a Face Detection function capable of optimising exposure and focusing for up to 32 faces in a single image in approximately 0.03 seconds.
The X70 packs an Auto Picture mode which selects the most appropriate shooting mode by detecting the subject's lighting, movement and other conditions. Sensitivity runs from 50 ISO right up to a hefty 6400 ISO, although we'd won't be holding out too much hope for the quality of images taken at that rarified rating.
There's also the Smile Capture and a novel Blink Detection which apparently warns the photographer when the subject's eyes are closed at the moment of capture. There's also a super macro mode and 'digital wide' which stitches two wideangle shots together to produce a 'virtual' 20mm ultra-wide panorama.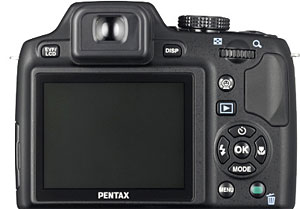 Movies go up to a high-definition 1280 x 720 pixels at 15 frames per second, or 848×480, VGA and QVGA resolutions at 30 frames per second.
The Pentax X70 Megazoom will be available in the US in April for $400 (around £285).