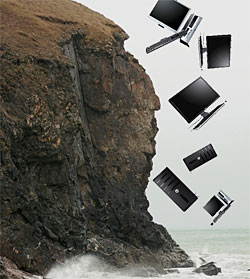 Sales of personal computers are set to tumble by double digits this year for the first time in history of computing.
The claim comes from analyst firm Gartner, who predict shipments of PCs to crash by 12 per cent this year, with sales for 2009 pegged to 257 million units.
The last major dip in PC sales was way back in 2001 following the 'dot-bomb' Internet crash, but shipments only fell a relatively modest 3.2 per cent.
In a statement, George Shiffler, research head honcho at Gartner, spelled out the gloomy news: "The PC industry is facing extraordinary conditions as the global economy continues to weaken, users stretch PC lifetimes and PC suppliers grow increasingly cautious."
There's been an icy breeze circulating around the industry for some time, with tech companies like Seagate, Intel, Nvidia, Advanced Micro Devices and Western Digital all witnessing plummeting sales.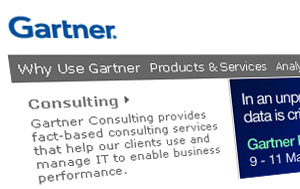 Desktop doom
Desktop big boys Hewlett-Packard reported a 19 per cent drop in PC sales, while Dell were hit by a thumping 27 per cent drop in desktop sales, swiftly followed by a 17 per cent drop in notebook sales.
It's all doom and gloom for desktops, with Gartner expecting a mighty 32 per cent drop in sales next year, although sales of laptops are predicted to increase by 9 per cent.
Netbooks continue to buck the trend, with Gartner expecting sales to soar to 21 million units in 2009 – nearly double compared to 2008's 11.7 million total.