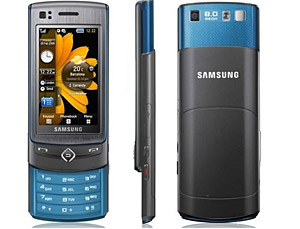 Available in a range of damn funky colours is Samsung's natty new Ultra Touch S8300 slider phone (called the Ultra Touch everywhere but Britain).
The two tone handset sports a 2.8 inch scratch-resistant screen AMOLED touchscreen supporting a smaller-than-expected 240×400 pixels resolution capable of showing 16 million colours.
Slide out the keyboard and swivel the phone around and a mighty 8.0MB camera appears at the top of the camera, with Dual-LED flash onboard keeping things snapping in low light. The camera clearly has aspirations to boot your regular compact camera into touch, coming with but a face and smile detector along and the capability to Geo-tag photos.
The Ultra Touch also supports Bluetooth 2.1, and comes with 80MB of onboard memory with further expansion available via a Micro SD card. The phone looks to be perfectly pocketable too, measuring up at 110 x 51.5 x 12.7mm
New UI
The phone is expected to come with the latest version of Samsung's rather neat finger-friendly TouchWiz UI.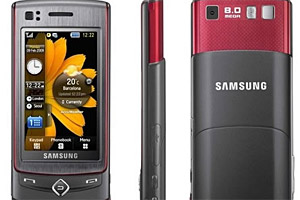 This ramps up the eye candy 3D-effects backed up by enhanced haptic feedback and new gesture and voice controls.
There's also a 'widget dock' for customising the interface with downloadable wmini-apps while Samsung's new Photo Contact feature should make finding pals an easier business.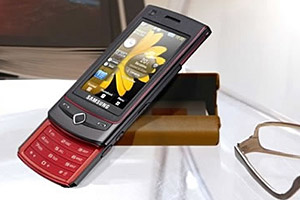 The phone and the new interface will be introduced at the Mobile World Congress next week, an event that we'll be keenly following.
Pricing and availability is also expected to be announced at the event, although we can expect it to be priced arond the upmarket £35/month end of the market.