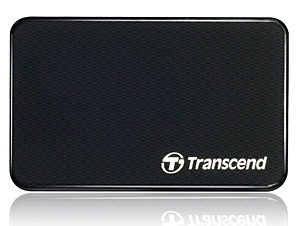 For anyone fed up lugging around beefy portable hard drives, Transcend's super stylish new SSD18M eSATA drives look an absolute treat.
Sporting a rather lovely black "gloss diamond pattern" exterior, the portable solid state drive measures just three inches long and two inches wide ( 80 x 50 x 12.5mm), so it'll slip into your trouser pocket, nae bother.
With solid-state hard drives using NAND flash memory with no moving parts, there's far less chance of damage due to vibration and shock, and the technology keeps on giving thanks to its weight savings, low power consumption, and extra portability.
The SSD18M packs integrated ECC (Error Correction Code) functionality and wear-leveling algorithm to keep the data flowing, and supports non-volatile Flash Memory for data retention.
For added flexibility, you can connect the SSD18M to your desktop or laptop (or netbook, even) either via a standard USB 2.0 interfaces or use the eSATA (External Serial Advanced Technology Attachment) interface that can deliver a maximum read speed of 90MB/s and write speeds of 50MB/s.
If, like us, you had no idea what eSATA stood for, you'll find it all explained here. Briefly, it's considered the next generation of internal bus interfaces for hard drives and can transfer data about three times faster than FireWire 400 and USB 2.0.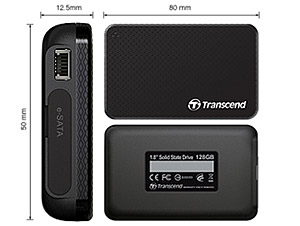 The Transcend SSD18M eSATA drive is available now in 32GB, 64GB, and 128GB capacities but there's been no word on pricing yet apart from in India where it retails for Rs. 7,000 for 32 GB, Rs. 12,000 for 64 GB and Rs. 20,000 for 128GB.