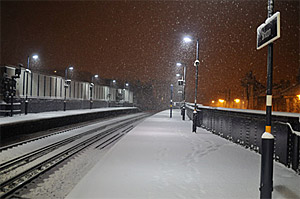 In the UK, it usually only takes about a nano-centimetre of snow to have the headlines blaring, "OMG! SNOW CHAOS!!!," but in the last 24 hours parts of the country have suffered major snowfalls.
Several travel websites buckled under the strain this morning as anxious commuters tried to find out if their train or bus was running (if you did manage to get through, the answer was generally: "it's not").
After a flaky start, the National Rail Enquiries website now appears to be working, while Southern's website – which collapsed under the strain earlier today – now sports a single, sparse page containing a few scant service updates after heavy demand knocked it completely offline earlier.
The website for South West Trains has also been stripped back to basics, with a Spartan homepage advising people to "not travel where possible."
Not surprisingly, bloggers, twitterers and web authors were busy adding photos, reports and updates of the snow action.
32-mile traffic jam
With snowstorms gripping the south of England, Sat nav maker TomTom has said that its HD Traffic system recorded a massive 32-mile traffic jam on the M25.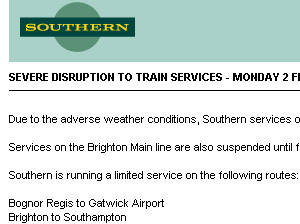 TomTom's HD Traffic system works by plotting the speed of traffic using live cell data from Vodafone mobile handsets, and at 8.30am this morning recorded 1,086 miles of traffic stuck in 388 jams across the UK.
The M25 monster queue was between junction 19 at Watford and junction 8 at Reigate, with the traffic stretching back 32 miles at 7:30am, while the longest delay in terms of time was on the M27, with a wait of one hour 27 minutes from junction 11 to the M3 interchange at just past 8am.
BBC pranksters
Elsewhere some very naughty boys in Nottingham decided to draw a huge four letter word in the snow right in front of BBC's webcam last night.
The image has now gone, but we grabbed a copy for your enjoyment. Click here to view it (note: NOT work or child safe!).