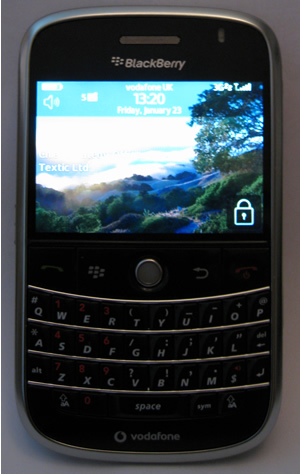 The Blackberry Bold has been around for a while (having been released during summer last year) and it's already been superseded by the Storm (which is probably in a tea-cup) though they are designed for different markets.
The Bold is a business phone, it has a nice screen and a keyboard that is usable – as usable as the earlier Curve and better than the dual key bodge of the Pearl.
The Storm is RIM's attempt at a consumer phone to compete with the iPhone and public opinion says it pretty well fails at all counts, especially the software which is buggy.
It's slightly bigger than the Curve at 114mm (4.48 inches) by 66mm (2.6 inches) by 15mm (0.59 inches) and it weighs 136 grams (4.8 ounces), but will fit into a jacket pocket (or a jeans back pocket).
The display is Half VGA (480 x 360) supporting over 65,000 colours and is light sensing, so the backlight comes on in dark conditions.
The new display supports a new Media player which is pretty capable in terms of formats (DivX 4, Div X 5/6 partially, XviD partially, H.263, H.264 and WMV3).
Audio formats supported are .3gpp, MP3, WMA9, WMA9 Pro WMA10. MIDI, AMR-NB, Professional AAC/AAC+/eAAC+.
Unfortunately the camera is still only 2MP, though video recording is supported (video recording requires a microSD card).
The Bold has good wireless support with Bluetooth v2.0 including A2DP/AVCRP for stereo audio. WiFi supports 802.11a/b/g.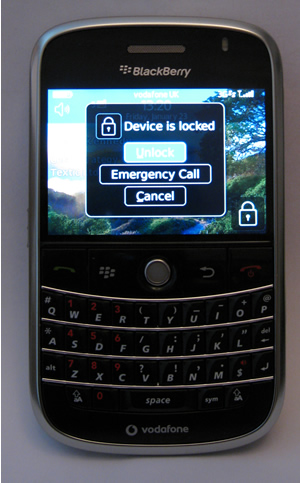 There's also a GPS receiver. However enabling WiFi or GPS reduces battery life significantly and Blackberry's Maps application is not particularly useful, just say no and install Google Maps instead – which works much better.
iTunes
Blackberrys can now support iTunes by installing Blackberry Media Sync (available from Blackberry Web site).
When installed it will make the Blackberry look like an iPod to iTunes (though only for non DRM'ed music).
It's also reported that the Mac version will disable sync functionality with PocketMac and other programs that sync contacts/calendars – which isn't really useful as a business device (though the Mac version is in beta).
Performance
The Bold is fast compared to the Curve, most applications wont notice but games like BrickBreaker are noticeably more responsive.
The browser is also usable and 3G makes downloading pages quick (though rendering is slightly slower than expected), however 3G sucks battery life compared to GPRS or EDGE.
Bold re Curve
Is it worth getting a Bold? Yes, if speed is the requirement and battery life isn't so important.
A Bold will probably last a day and a half of reasonable use, a Curve will last around 3 or 4 days.
Since RIM have now released the Curve Titanium (which is still only GPRS/EDGE but has a 3.2MP camera, WiFi and GPS) the Bold advantage has decreased still further, though it's much better than the Storm (especially in the business market). 3G is useful for browsing/downloading/tethering to a PC, but for Email there's no noticable difference to Email on GPRS/EDGE.
Score 75%