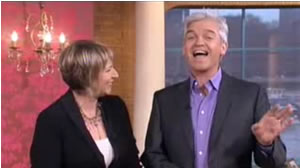 You can't get much more mainstream than the mid-morning ITV programme This Morning.
Today the show was opened by long-time TV presenter, Philip Schofield, declaring that he's on Twitter as @Schofe.
Clearly publicity that Twitter couldn't buy, especially as he went on to say that he's been on it a week, and "got a bit hooked."
Go On. I dare you
Over the previous days, there had been quite a few on Twitter doubting that The Scofe was real. They even went as far a daring him to announce it on air … which he duly did today, following it up with a Tweet (natch), "There you are!!! Told you I'd do it. Morning all. Right the news is about to end so I have to go!"
The Famous taking control
As we've said before those newspapers who have been putting Twitter down like Nick Curtis and the celeb-obsessed Daily Mail will feel even more foolish that they probably already do.
The benefit for The Famous? They don't have to speak through the filter of the Press to the public who like them – they can do it directly.