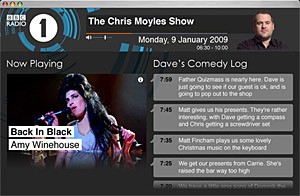 The BBC is set to revolutionise radio listening with the introduction of a new "visual radio player" this month.
The technology is set to be trialed for a week on Radio 1's Chris Moyles weekday mornings show (6.30am to 10am) and on the Annie and Nick show on Sunday evenings (7pm to 10pm), and will let users listeners head off to the DJs website and get a load of "complementary visuals."
The information will come in the form of "glanceable information" which the BBC describes as, "snippets of information that are suitable to radio content, that you wouldn't want to stare at while you're listening to a show but will be useful if you hear something great and want to know what it is."
Examples will include details of the currently playing track, artist background, DJ webcam as well as providing a snappy way for users to give their feedback onscreen via SMS, phone or email.
There'll also be 'swingometers' and bar charts to add ore interaction to users.
The BBC views this trial as "an important aspect of the way in which radio is evolving on different platforms" and there's big plans afoot for the future too, with the company saying in their blog: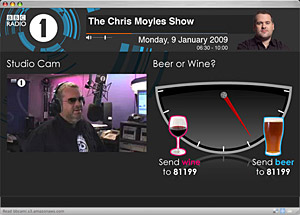 "In future versions we may explore how we can incorporate interactive features, things like Radio Pop functionality or the ability to contact the show from within the player".