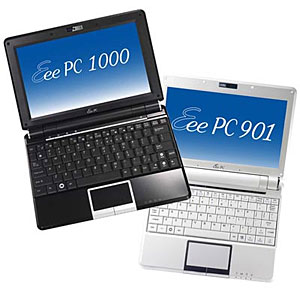 In part one of our Asus Eee 901 review we gave you some background on the little beauty and what you get inside. Read on for more details and the conclusions and scores.
In all of the excitement of the holiday season, it looks like we forgot to bring you this part two. If you've been sitting on the edge of your seats in anticipation, you've probably got a pretty numb bottom!
Connectivity
The Eee should have enough ports and connectivity options to suit most needs, sporting 3xUSB 2.0 ports, Bluetooth 2.0, 802.11b/g and 802.11n Wi-Fi, Ethernet port, SD card slot and D-Sub video output.
Performance
We found the Eee pretty much perfect for our basic surfing, photo viewing and emailing needs. The netbook also played back YouTube videos smoothly, although it could sometimes slow down when transferring large files.
The keyboard is rather smaller than we would have liked, and it took a fair bit of getting used to before we could knock out emails without constantly referencing the 'backspace' key.
The battery life however was fantastic, and after three hours of solid Wi-Fi activity, there was still well over two hours showing on the taskbar.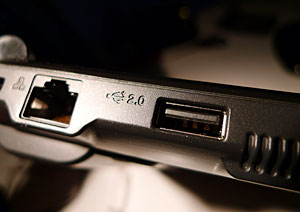 One thing to watch out for: when we were surfing in bed (well, we had a hangover) it was easy to obscure one of the heat vents with a blanket. Although the machine didn't feel that hot to the touch, it cut out several times until we worked out what was causing it and reluctantly moved our beer-weary asses and sat at a table instead.
Conclusion
Although the 901 scored low marks for its cramped and fiddly keyboard, it just about excelled in every other department.
The netbook is light and tough enough to lob in your bag and take it around all day, the screen is big and bright enough for everyday tasks and the all-important battery life was truly stellar.
The Asus Eee 901 can currently be picked up on the web for around £280, and at the price we think it represents excellent value. Recommended.
Ratings
Ease of use: 87%
Build quality: 86%
Features: 81%
Battery life: 92%
Value for money: 83%
Overall: 90%
Eee PC 901 Specifications
CPU: Intel Mobile (Atom) 1.6GHz
Storage:
Linux version: 20GB S.S.D.(4GB built-in +16GB flash)
Windows XP: 12GB S.S.D. (4GB built-in + 8GB flash)
Online Storage: 20GB Eee Storage (5GB Download/day)
Memory SDRAM: 1GB (expandable to 2GB)
Memory Expansion: One slot only
Screen: 8.9″ WSVGA TFT LCD (1024×600) and VGA Port
Graphics: Integrated Intel GMA 950
Connectivity: Bluetooth 2.0 EDR
10/100 Wired Network,
802.11a/g/n High Speed Wireless
Audio: Dolby Sound Room Certified
Stereo speaker
Digital Array Mic
Battery: 6 cell, 6600mAh
Run Time (Up To): 4.5 to 6 Hours
Weight: 1.1 kg
Dimensions (WxDxH): 22.5cm(W) x 12.6cm(D) x 2.2cm~3.9cm(H)
Webcam: Yes 1.3MP
Cover Finish: Glossy
Compact Keyboard
3x USB 2.0 ports
FingerGlide
SD/MMC (SDHC) Card Reader