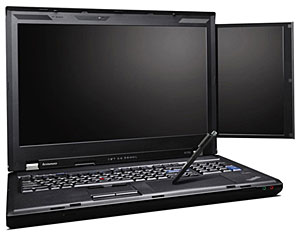 It's crazy looking creation for sure, but Lenovo's new dual screen ThinkPad W700ds has the features to set some designers heartbeats into double-quick techno time.
Based on the clever-clogs ThinkPad W700 we took a look at back in August last year, the W700ds, the beefy laptop serves up workstation performance with not one, but two screens.
The primary screen is a hefty 17-inch offering 1920 x 1200 pixels resolution while a nifty 10.6-inch secondary slide-out panel offers extra screen real estate for app toolbars or an open browser window. It looks kind of odd but once you've got used to working with two screens, you soon appreciate the benefits.
As befitting the ThinkPad's high end status (and wallet-draining price tag hovering around $3,700 upwards), the W700ds is overflowing with technological goodies.
Full details about exact configurations are still to be released, but users will be able to mix'n'match high-end Intel CPUs (including Intel Extreme Quad-Core), NVIDIA Quadro FX graphics and optional RAID HDD/SSD setups.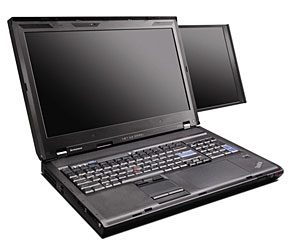 The machine can take up to 8GB of DDR3 RAM and comes with a built in Wacom art tablet, dual-link DVI, Display Port, five USB 2.0 ports, VGA support, optional WiMAX, a 7-in-1 card reader and a smartcard reader.
There's also a 'dual thermal solution' to stop the high powered beast from turning into a pile of molten plastic.
The laptop is yet to appear on Lenova's website, but we;ve included the press release below.
See hands on preview video here: blip.tv/file/1610001
Via
Below is the full press release. Is it a good idea to include this? Is it of value to you?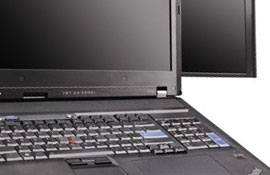 Lenova press release
RESEARCH TRIANGLE PARK, NC – January 5, 2009: Lenovo today is bringing users the highest levels of mobile workstation innovation and performance with the introduction of the ThinkPad W700ds mobile workstation. The ThinkPad W700ds gives users prime screen real-estate as the first mobile workstation in the industry with two screens. Lenovo combines a new balance of unique design with complex engineering and unparalleled performance to give users in the most demanding of fields such as digital content creation, oil and gas exploration, computer-aided design and photography, the ultimate mobile workstation.
"The ThinkPad W700ds dual screen mobile workstation challenged our international development team to engineer a notebook to fit the way workstation users work – in the office and on the road," said Mark Cohen, vice president, Notebook Business Unit, Lenovo. "Bringing this level of innovation to the most extreme PC users required continually balancing size and functionality with keeping the PC cool and quiet. This mobile workstation is the result of where Lenovo innovation and performance intersect."
The Power of Two
Because many workstation users typically work with two monitors, Lenovo designed the ThinkPad W700ds mobile workstation with two screens, accommodating their work habits while on-the-go and eliminating the compromise of having only one display when operating in a mobile environment. Research has shown that extra screen real-estate with multiple monitors helps maximize user productivity versus single display solutions.1 Measuring almost 40 percent of the 17-inch primary screen, the 10.6-inch second screen gives users extra screen real-estate measuring approximately the size of a Lenovo IdeaPad S10 netbook.
The second screen easily slides out from the PC cover behind the primary screen, and it can also be adjusted to fit a user's viewing angle by up to 30 degrees, similarly to how a car's rear view mirror tilts. This unique feature and test of engineering only adds a few millimeters in additional thickness to the mobile workstation over its predecessor, the ThinkPad W700 mobile workstation.
The second screen complements the primary optional 400-nit WUXGA display which provides up to twice the brightness of earlier ThinkPad mobile workstations. The primary screen's 72 percent wide color gamut enables more than 50 percent greater color intensity for an uncompromised viewing experience.
Intersection of Innovation and Performance
With its second screen, the ThinkPad W700ds mobile workstation builds on the breakthrough capabilities offered in the ThinkPad W700 mobile workstation that included the industry's first built-in digitizer and color calibrator for mobile workstations.
Ideal for digital content creators and users, the optional digitizer provides high resolution, pressure high resolution, pressure sensitive control of the primary screen, the primary and the secondary screen or a specific defined area of either screen. Select models also come with a color calibrator that quickly and automatically adjusts the screen's color to give true-to-life images and rendering 2D and 3D images, which are important items for digital content creators.
Professional photographer, Phil Borges commented, "The Lenovo ThinkPad W700 is the ultimate in portable workstations for photographers. The built in calibration and the ultra bright monitor make it possible for me to do work on the road that I would normally have to wait to do in the studio. The W700's two built-in hard drives make backing up photos while I'm on the road or in the studio a snap. Normally the process takes me a couple of hours, but with the W700 backup time is cut in half. Now the new ThinkPad W700ds takes it one step further with a second screen, allowing me to move all my working palets to the second screen and giving me more real estate on the main screen for photo editing."
The ThinkPad W700ds mobile workstation gives users the latest technologies that are essential for work in data and graphics-intensive fields such as computer-assisted design, computer-aided manufacturing and others. Top processing and graphics performance includes choices of Intel® mobile quad core and extreme processors with optional dual hard drives with RAID configurations and choices of NVIDIA® Quadro FX mobile graphics. The mobile workstation offers up to 8 GB of high speed DDR3 memory and choices of solid state drive storage and traditional hard disk drives for a maximum of 960 GB of possible total storage. The mobile workstation also carries certifications from more than 20 independent software applications.
The ThinkPad W700ds mobile workstation offers a rich, customizable multimedia experience with optional ™ DVD burner/player and high speed UDMA compact flash reader, support for Dual Link DVI, Display Port and VGA, a 7-in-1 multicard reader and five USB ports. In addition to WiFi, for connectivity beyond the office, select models support WiMAX. Security features include an optional fingerprint reader, a smartcard reader and hard drives with full-disk encryption.
The powerhouse mobile workstation also balances its functionality with staying cool and quiet. Lenovo engineered a dual thermal solution to keep the ThinkPad W700ds mobile workstation running as cool as ThinkPad notebooks and quieter than the ambient noise in a typical office.
Pricing and Availability
The ThinkPad W700ds mobile workstation is available immediately through www.lenovo.com and business partners. Pricing for models starts at $3,663.