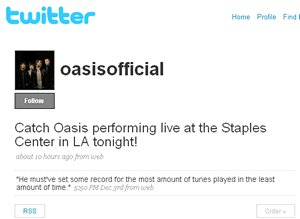 A couple of new Twitter converts came to our attention last night, despite what
Nick Curtis thinks of it.
Oasis, who are on a tour in the US at the moment, jumped on to Twitter a couple of days ago with their @OasisOfficial account.
They haven't exactly gone mad on it, making only two posts, but they are picking up followers fast.
Last night they had 155, but as the time of writing this, they're on 209. Adding 50+ overnight is pretty good going – especially when they've not really written about anything!
Vice Records too
The other music Twitter joinee is Vice Records (@vicerecords) who have posted 50% more Tweets – a grand total of three! – in the couple of days they've been online.
Not surprisingly, they're picking up followers at a more genteel pace. They've only gained two overnight. Ahhhh.
Come on Grandad!
As with many things, it appears that the Music Biz is coming to Twitter later that a lot of people … but let's not forget that many of the general public are yet to be Twitter-fied, so to them, these Music Biz-types will look like pioneers!
Perhaps the Music Biz is one set of people that Twitter should charge to try and make some money. The Music Biz has absolutely no concerns with charging people for their product, no matter how peripheral their use is of the product.