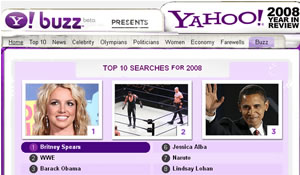 Yahoo has published their "Year in Review," covering search over 2008.
They're keen to point out that it isn't just what the top 10 searches were, but Top 10s of lots of catagories.
Beyond the Top 10s there's also some analysis of what those things could have meant.
Overall Top 10 – Depressingly vacuous
On the overall Top 10, it's truly depressing to see that the most searched term was "Britney Spears," followed by WWE (World Wrestling Entertainment). Makes you despair doesn't it?
It's only when you get to the third terms, do we get something of value – Barack Obama.
In amoung the rest of the celebrity nonsense, two searches jump out. RuneScape and Naruto as being out of the norm. RuneScape is a multi player game and Naruto, a manga and anime series.
Here's the run down …
1 – Britney Spears
2 – WWE
3 – Barack Obama
4 – Miley Cyrus
5 – RuneScape
6 – Jessica Alba
7 – Naruto
8 – Lindsay Lohan
9 – Angelina Jolie
10 – American Idol
Top Olympian searches
Given it was an Olympics year, it's not surprising that Yahoo have picked a top 10 for the Olympians
1 – Michael Phelps
2 – Leryn Franco
3 – Serena Williams
4 – Kobe Bryant
5 – Shawn Johnson
6 – Jennie Finch
7 – Misty May Treanor
8 – Ronaldinho
9 – Alicia Sacramone
10 – Nastia Liukin
Politicians
Given it's been an election year in the US (as if you hadn't noticed!), the Top 10 politicians searches is an interesting one.
Top of the pops is obviously Mr Obama and, given know one knew who the heck she was, it's not surprising to see that Sarah Palin ones in at second.
1 – Barack Obama
2 – Sarah Palin
3 – John McCain
4 – Hillary Clinton
5 – George Bush
6 – Ron Paul
7 – John Edwards
8 – Mike Huckabee
9 – Arnold Schwarzenegger
10 – Mitt Romney
If you've got a bit of time to kill, pop over there and fill/empty your brain.