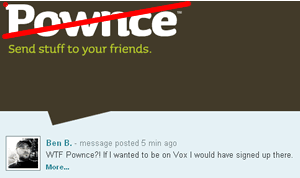 Pownce, a competitor to Twitter, has announced that it is shutting the service on 15 December – Just two weeks notice.
The two main people behind the service, Leah Culver and Mike Malone, will be going to work with blog company, Six Apart.
Two more of the Pownce team, Kevin Rose and Daniel Burka will be all 'la de da' and become advisers to Six Apart.
They say that lessons that they've learnt while building Pownce will be taken to Six Apart to be incorporated into their offering, quite how is unclear, but as Leah Culver has posted, "We're bittersweet about shutting down the service but we believe we'll come back with something much better in 2009."
What's clear is that the content that Pownce user have created while the service has been running will be taken over to the Vox service, run by Six Apart.
Instant reaction hasn't been good, such as Ben B., "WTF Pownce?! If I wanted to be on Vox I would have signed up there. "