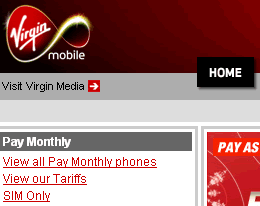 Every day more people are accessing data services from their mobile phones, like Internet browsing, Twittering, checking Facebook.
Virgin Mobile are to be offering a 30p per day Internet tariff from 8 December to tempt people to their network, or indeed keep them.
The charge will be the same for contract and pre-pay customers, with both of them limited to a 'fair use' policy of 25MB per day.
Quite whether 25Mb will be enough for users will depending on what services you'll be using online. Text browsing will last for a long time before you get to 25Mb, but downloading films or watching video will get used up very quickly.
While the entry price appear pretty darn reasonable, the charges levied if more that 25MB is used are pretty steep, with Virgin charging £2 per megabyte used on top of this. Yikes!