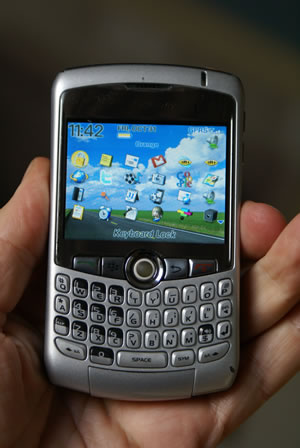 We know that this isn't the _latest_ gadget, but it shouldn't always be about the new should it? This is one device that become a consistent must-carry item for us – which is pretty rare in the world of constant development. We thought we'd detail why.
I've been using a Blackberry Curve (8310) for the last twelve months. It's been my phone of choice — my must carry — over and above all of the other handsets that we've had in to review – and that's plenty.
That point alone should be sufficient to recommend it as a really strong handset – but there's more.
It's size and form mean that it's never out of place. It's light enough to have in your pocket without it being a burden – always to hand and that's a major bonus.
Text, text, text
For me, where it has really burrowed itself into my life is that wherever I was, I was able to write chunks of text, be that writing news pieces in press conferences that went directly to the Digital-Lifestyles head office for publishing through as articles; notes to myself; emails, Twitters, texts, etc. The uses have been near limitless.
The QWERTY keyboard made it totally efficient to type on and surprisingly its size wasn't a limiting factor. Within a very short period of getting it, I found that I was able to fly around the curved keys with my two thumbs with very little problem, reaching some pretty high word rates.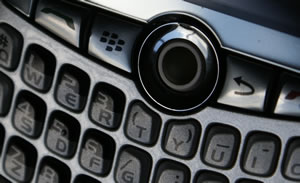 Mis-keyings were rare, certainly much rarer that with touch screen keyboards I've used on other mobile phones in the mean time.
Gmail client
Clearly Blackberries are known for the ability to 'do' email. I didn't use the built-in email ability. I live my life via gmail, so the idea of redirecting it all somewhere else didn't appeal. Step forward the gmail client software.
Not only does this have the advantage of not having another email source to deal with, but, for me the most important aspect – you ask when you have email, the Blackberry isn't always telling you when email arrives.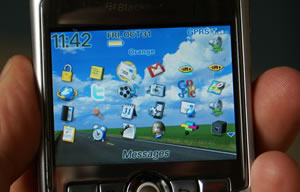 Other Blackberries I've had in the past have driven me to the edge of madness, constantly alerting me to new email arrivals. This became particularly irksome at weekends, when it felt like you could never escape.
The gmail client saw an end to this. There's an update version of it available now too.
Some niggles – Camera average
OK – there were niggles with it and when I knew that I might be somewhere that needed the taking of photos, I'd always have to pack another phone, like an LG Viewty or 'proper' camera, if serious photos were needed.
The Curve's camera was OK if there was nothing else to hand but its 1.3mpx limited its usefulness, but it was more than slightly made up for by the 1970's colours that it came out in.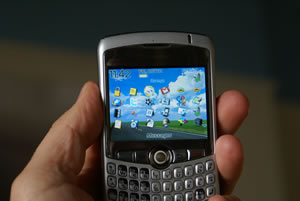 SMS – Good, but not brilliant
OK, the Curve doesn't quite understand SMS as well as it should — if you're out of mobile reception, it doesn't auto-send the SMS when it gets back in range — but I forgave it that, plus we know that the US and Canada, where the Blackberry hails from, are relatively new to SMS, so expectation should be reduced.
Other apps
There's a whole load of other Apps that come with The Curve, as well as third party apps that you can add yourself.
By way of a summary. The music player is pretty strong; The mapping application can be a life saver, but you have to tell it where you are, and the maps have to come down over the air, so data charges can be heavy.
The Web browser is OK, not brilliant, but just OK. Opera do one that you can use in it's place. It plays videos too, but I've never bothered.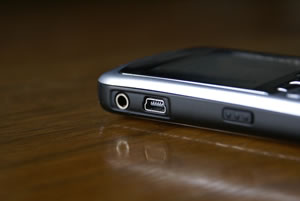 Stereo Bluetooth – Fantastic
One great, but not often spoken about upside is that the Curve is able to buzz its audio tracks over stereo bluetooth. We're big fans of stereo bluetooth – it's really impressive quality, with no wires.
We've used the Curve in stereo-Bluetooth mode with the
Motorola S9 headset, Sony Ericsson MBR-100 bluetooth receiver connected to a home HiFi setup and the Gear4 BlackBox speaker unit. It's worked well with all of them – most impressive.
If you're not using stereo-Bluetooth, Blackberry has also provided a 3.5mm headphone jack – praise the Lord!
Listening to music on the Curve didn't interrupt using it being used for all of the those other great functions that you come to rely on.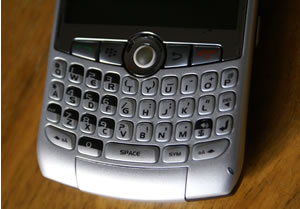 USB Power strangeness
It's USB powered, but like some other devices, it only really like being charged by it's own main power adaptor, not other USB chargers, or USB leads running from a computer. It's a small point, but worth mentioning.
Hard to get documents off
Getting those document off the Curve was strangely difficult. I'd just imagined that popping the memory card into a computer would have displayed them. Instead, the only way I found for getting them off, was to email each of them individually to myself – a serious drag when you'd typed as many as I'd had.
Overview
The size of the Curve is perfect. It's slips into any pocket, so you can take it anywhere.
It's rugged — surviving a year of me knocking it around, while still looking near-perfect — and the keyboard is as close to perfect as I can imagine.
The interface is well designed, as are the applications. Even the battery life will last a day with pretty constant use.
Scores
Easy of use: 92%
Ruggedness: 84%
Design: 87%
Interface & Apps: 89%
Overall: 88%
Summary: A great device. Highly recommended.