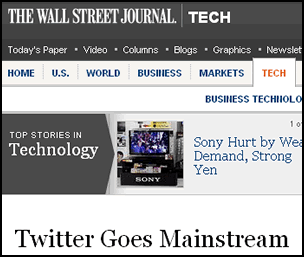 We know that Twitter gets under people's skin, leading some of them to tweet their little sock off across many subjects from their view of emerging new business idea, through their inner most thoughts, to their love of sandwiches. Some people even get their houses to Twitter, like IBM Tech Boffin, Andy Stanford-Clark, on the Isle of Wight.
The genius of Twitter is that they're created, either consciously or not, a whole new communication channel.
Well, the Wall Street Journal has decided that Twitter has now gone Mainstream – it's inevitable that this sort of publicity will build it up further … but will it kill?
Where's the money?
As those of us who follow this kind of thing know, Twitter isn't generating any income to speak of, they've provided the tools, server space and bandwidth – although they've limited bandwidth usage, by cleverly restricting Tweets to 140 characters. Lots of people are using Twitter, but it's been unclear where the money might arrive.
Luckily the WSJ article has a pointer or two from Twitter co-founder Biz Stone, "Twitter might charge for premium services in the future." Sadly no details as to what that might be.
It also looks like Twiter will be expanding their features out. Back to Biz,
"Twitter is looking at ways to allow people to indicate that they are attending a particular event, so they can more easily share updates with others who are there."
Not clear if that's one of their possible revenue streams or another way of getting people even more hooked/dependant on Twitter.
Follow Digital-Lifestyles on Twitter
We've kept it quiet for a long time, but Digital-Lifestyles publishes our stories on Twitter under twitter.com/diglif, so if you're a Twitter fan, get on board.
If you get the inclination, you can also get in touch via Twitter and follow me on twitter.com/simonperry.