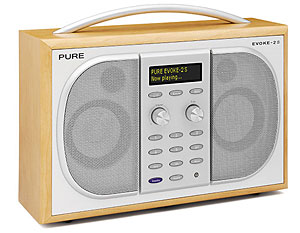 Brit DAB overlords Pure have introduced their new flagship DAB/FM radio, the Evoke-2S.
Replacing the earlier award-winning Evoke-2XT model, the updated DAB portable comes with the company's Clearsound Technology for improved audio which uses an integrated high-performance switch-mode power supply, Class D amplifiers, digital audio shaping technology and custom-tuned speakers.
We're not entirely sure what all techie-blather that means, but Pure are saying that your ears will flap with joy at the improved sound, like Spock on a slimming belt.
Along with the improved dynamic audio range, the Evoke-2S has enough beef in its wooden box to rock da house with 30W RMS of power while keeping its green credentials intact.
If the Evoke-2S was a person, it would walk about in a hemp seed jumper plastered in 'save the planet' badges and be supping organic ale from a recycled tankard.
A fully signed up member of PURE's EcoPlus range, the radio comes with a dedicated power off switch instead of the usual power-leaking standby option, claims reduced power consumption and uses recycled and sustainable packaging materials.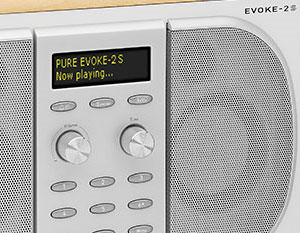 But all that eco stuff would be rubbish if the radio wasn't any good, but the folks of Pure look to have put together another class package.
The 2S includes the fantastic ReVu option which lets you pause and rewind live DAB radio as well as Intellitext and textSCAN.
There's also improved alarms and sleep timer functions and more presets, an input for an iPod/ MP3 player, with a bright OLED display offering manual and automatic brightness controls. The radio can be run off the mains or from the optional ChargePAK rechargeable battery which offers up to a week [or 20.5 hours] listening.
EVOKE-2S will be available in November for 170 smackers.