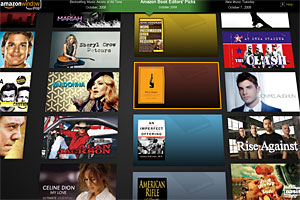 With more bells and whistles than a Tinkers vs Morris Dancers wrestling bout, Amazon's new WindowShop website offers a graphics-rich online shopping experience.
You'll need the latest version of Flash otherwise you'll be looking at a page completely free of relevant content, but if your browser is up to date, then you should be in for a visual feast – just so long as you're on a fast broadband experience.
The interactive interface shows Amazon's newest and most popular movies, books and video games in a manner that's rather fun to browse, and it feels closer to real life store browsing than churning through the usual product lists found on shopping sites.
Each product is displayed as a tile on a large grid, and surfers can pan and sweep across the tiles to find something that interests them, using the arrow keys and zooming in on individual products by hitting the spacebar or clicking on the object.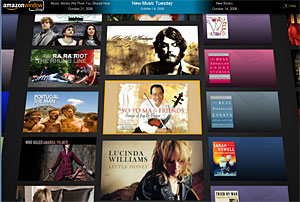 Selected products fill most of the screen and immediately start playing: if it's a video game you'll see a demo clip of it in action; if it's a CD you'll hear a track along with the artwork; and if it's a book you'll see the cover with a segment read out to you, and so on. The quality of the videos was pretty impressive considering the speedy download and the clips were long enough to give you a real flavour of what's on offer – if you leave a product highlighted, you'll get to see all the clips one after another.
Individual categories ('Amazon Book Editors' 'New Music,' Bestselling TV Shows' etc) are displayed on the top, and scrolling left/right switches categories, while using the up/down keys lets you view the products in that category, with an option to buy the product a click away.
The interface seems to borrow somewhat from Cooliris (although that requires a 3.3MB download to get it to work in XP/Vista), and there's no search box, so the site seems to be geared towards folks browsing for ideas and inspiration.
Although it's fun flicking through the product tiles, we're not sure if we'd spend that much more time browsing the site, but for consumers keen to part with some cash for Christmas presents it sure beats regular shopping sites.