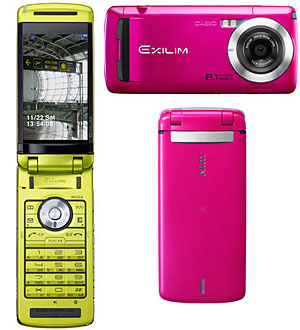 Taking the cameraphone concept to a whole new level is the Casio Exilim W63CA, a clamshell design handset packing in a mighty 8 Megapixel camera.
Introduced by the Japanese mobile operator KDDi, the Casio has a camera feature set to challenge dedicated snappers, with support for 9-point auto focus, face detection, anti-shake and a YouTube video mode that records VGA video at 30fps to microSD.
Unusually, the lens is a very useful wide angle 28mm lens (35mm equivalent) – great for snapping city scenes and drunken hordes of friends in confined spaces.
We've no idea what the image quality will look like at such lofty sensitivities (we're thinking a snow storm in a dust bowl) but the Exilim manages to push the ISO all the way up to an impressive ISA 1600 for low light shooting. There's also a flash onboard to being light into the darkness.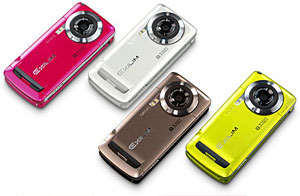 The biggest wow factor is the screen size – a colossal 480×800 dots, 3.1 inch OLED display which matches the resolution of the HTC Touch Pro.
The super super sharp shooter also comes with Bluetooth, Micro SD card slot, web browser, media player and email client, and measures up at a pocketable 50 x 110 x 17.4mm, and weighs 124 grams.
The Casio Exilim W63CA comes in a selection of groovy colours – pink, ice white, titanium gold and metal green – and looks to be a truly desirable piece of kit, but there's one almighty snag: it looks like it'll never make it out of ruddy Japan. S'not fair, is it?