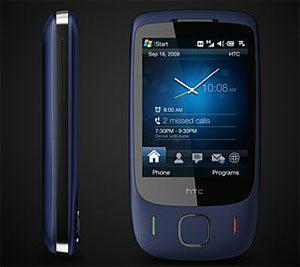 Slipping out of HTC's ever-industrious product factory in rather a half cocked manner is two new high-end HTC Touch handsets; the Touch 3G and Touch HD.
Both seemed to have suffered leaked releases, with product pages going up and down all over t'shop, but here's what we've found out so far.
HTC Touch 3G
A rather a natty looking affair running on Windows Mobile 6.1 Professional, the HTC Touch 3G comes with HTC's next generation TouchFLO covering over the sizeable cracks in Microsoft's long serving and mostly clunky interface.
The company claim that their 2.8-inch touch screen offers "four times the resolution of most phones" but at just QVGA (320 × 240) we can only assume they're comparing it to crappy old cheapo handsets rather than current big sellers like the iPhone or even three year old phones like the Palm Treo 650 which managed a more impressive 320×320 (edit: we think they've just got it confused with the specs for the Touch HD below).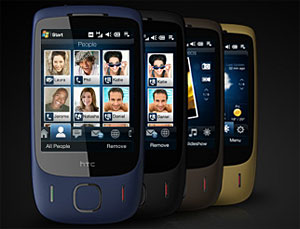 Connectivity wise, the Touch 3G comes with HSDPA/WCDMA (Europe/Asia: 900/2100 MHz) offering up to 384 kbps up-link and 7.2 Mbps down-link speeds, and quad-band GSM/GPRS/EDGE, 850/900/1800/1900 MHz, Bluetooth 2.0 with Enhanced Data Rate and A2DP for stereo wireless headsets and IEEE 802.11 b/g Wi-Fi. Naturally, there's GPS and A-GPS onboard.
There's a 3.2 megapixel camera for stills and video onboard with a microSD slot for expandable storage, plus HTC's ExtUSB 11-pin mini-USB 2.0 and combined audio jack forcing users to fiddle about with proprietary headphone connections. That's well rubbish HTC: people want 3.5mm audio jacks!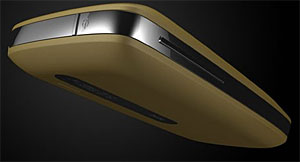 The rounded, pocketable phone (102 mm X 53.6 mm X 14.5 mm) weighs in at 96 grams and is powered by a Qualcomm MSM7225 528 MHz processor supported by 256MB ROM and 192 MB RAM, with the 1100 mAh battery promising up to 360 minutes for WCDMA/400 minutes GSM talk time and a standby time up to 450 hours for WCDMA and 365 hours for GSM.
Pricing or availability to be announced.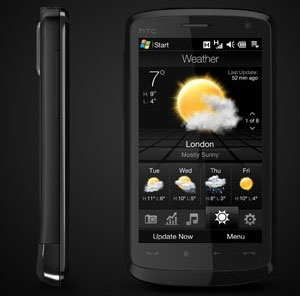 HTC Touch HD
Now this is one hot looking handset, packing a colossal 3.8-inch 800 x 480 pixel screen, 5 megapixel camera and – hooray! – a standard 3.5mm audio jack.
When it comes to connectivity, the HD has got most bases covered too, packing HSDPA, GPS/ A-GPS, 802.11g WiFi, Bluetooth 2.0+ EDR and a microSD slot.
The 12mm skinny box o'tricks also sports a front-facing VGA camera for video calls, and there's 512MB of ROM and 288MB of RAM onboard.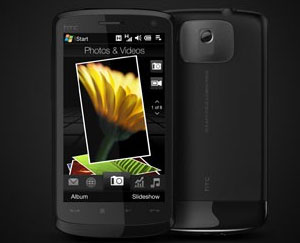 Again, HTC's finger-friendly TouchFLO 3D interface sits pretty on top of nasty ol' Windows Mobile 6.1 Pro, with the beefy 1350 mAh battery promising 390 minutes of 3G talk and 450 hours of 3G standby, or 120 minutes of video calls.
We'll try and find out availability and pricing once HTC stops faffing about with their website. Meanwhile you can check out the product page to see if they've put anything back up yet.