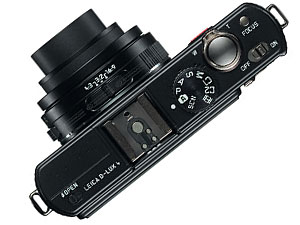 High end, wallet-draining, camera toffs Leica have announced their D-Lux 4 and C-Lux 3 digital compact cameras.
Based entirely on the already-released Panasonic Lumix LX3 and FX37 cameras, the Leica versions come with gracefully understated exteriors, a few default parameters and, of course, the drool-inducing red badge that says, "I am a veh serious photographer."
Leica D-Lux 4
Described as, the "Son of M8″ and looking neat in an all-black metal finish, the 10MP D-Lux 4 comes with a 1/1.63″ CCD image sensor, 3.0" 460k pixel LCD monitor and wide angle zoom covering 24 to 60mm (35mm format) offering a bright f2 aperture, reducing to f2.8 at full zoom.
Photos can be saved in Fine, Standard, RAW or combinations and the camera offers a HD port for hooking up the camera to your (no doubt) billboard sized plasma home screen.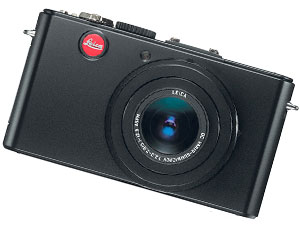 In line with its enthusiast aspirations, there's manual controls, O.I.S. image stabilisation, a hot-shoe on the top plate, with a 24 mm optical viewfinder accessory for some old-school shooting. There's also video recording, 50MB internal storage and SD/SDHC storage.
The D-Lux 4 will be available from October 2008, at a credit card-curling price of £590.
Leica D-Lux 3
Shimmying down a notch in the product range is the rather sleek C-Lux 3, which comes with a smaller 1/2.33″ CCD sensor and a 2.5″ 230k pixels LCD monitor.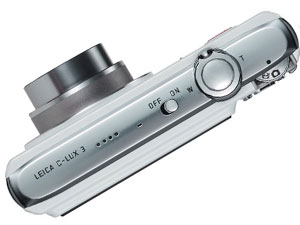 Offering the same 10MB resolution, the zoom range runs from 23mm-125mm (35mm equiv) with the D-Lux 3 offering O.I.S. image stabilisation and a ton of auto features including face recognition.
There's 50MB internal storage and SD/SDHC support, plus video recording, with the camera available in black or white from October 2008, with a decidedly upmarket price of £420.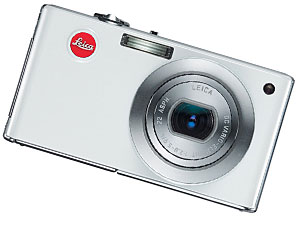 Leica
We say…
Both these cameras look lush, but unless you're the owner of Moneybags Hall or desperately crave to be seen flaunting your wealth by showing off the (admittedly extremely desirable) Leica brand, you'd be far better off getting the cheaper Panasonic equivalents. And if it's sheer image quality you're after, there's several excellent dSLRs available at the same price that will comfortably outperform these Leicas.