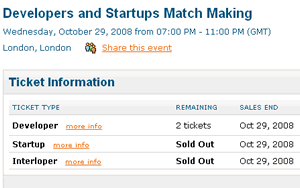 UPDATED:Ben has been in touch to tell us the first event has sold out (Well done!). There have been expressions of interest in doing more of them, so stay tuned and we'll keep you informed.
Here's a quick note to the London software developers out there.
There's an event this coming in London on Wednesday, 29 October, which is bringing together Developers and Startups – two sets of people who don't normally socialise with each other, outside work dos.
It's the brain child of Ben Godfrey, who we met at FOWA recently. He came up with the idea after speaking to a number of Startups and realised that most of them had difficulty finding talent to work on their projects. Equally developers weren't always aware of what funky, cool project were available to work on.
There's only two tickets left for developers, so if it sounds like your type of thing, you'd better get your skates on and register. Startup tickets have all gone.
It runs between 07:00 PM – 11:00 PM (GMT) on Wednesday, 29 October at
The Old Crown
33 New Oxford St
London, WC1A 1BH