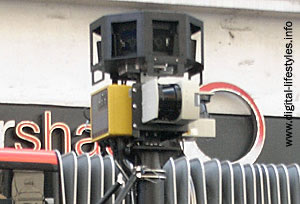 In between enjoying the delights of various Soho hostelries last Friday afternoon, we came blinking out into the autumn sunlight to see a vehicle sporting a mini tele- communications tower on its roof.
Pausing to rub our eyes to check that we weren't seeing a curious visual residue of the Ruddles County Ale we'd just polished off, we looked closer at the curious assembly of six cameras sitting atop a four foot black pole and wondered if it was a new-fangled CCTV vehicle being trialled around London.
However, looking on the door of the all-black vehicle gave the game away, with a white sticker proclaiming it was a Google Street View car, caught busy snapping the streets of central London.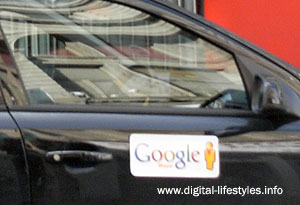 The car was spotted outside Centrepoint, waiting by the lights on Charing Cross Road. We quickly whipped out our camera and managed to grab a couple of snaps before the car moved onwards towards the Mecca of all things electronic, Tottenham Court Road, and continued north towards Camden.
Google's Street View technology uses six cameras to create 360 degree panoramas of street views. It first launched in San Francisco, Las Vegas, Denver, Miami and New York in the US and has since spread to more areas of the US before moving over to Europe, Japan and Australia and New Zealand.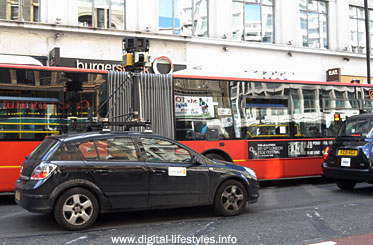 In the UK, the vehicles have been seen in London, Birmingham, Cardiff, Manchester, Glasgow and Edinburgh with the service expected to become available shortly.
Google Street View in UK: Times feature